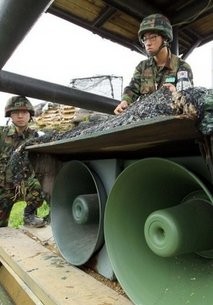 (AFP/Yonhap/File) South Korean soldiers stand by loudspeakers at a guard post close to the border it shares with North Korea.
SEOUL (AFP) – US Secretary of State Hillary Clinton arrived Wednesday in South Korea, an AFP correspondent reported, for a visit aimed at showing solidarity with Seoul in its confrontation with Pyongyang.
She was to have talks with President Lee Myung-Bak and Foreign Minister Yu Myung-Hwan before holding a press conference and departing for home later Wednesday.
Clinton arrived from Beijing, where she pressed China to get tougher with its ally North Korea over the sinking of a South Korean warship.
China -- which could veto any UN move for new sanctions -- has not blamed the North for the sinking but called for restraint by all sides.
News of Clinton's arrival follows an announcement from North Korea which warned it would block South Korean access to a joint industrial estate in its territory if Seoul goes ahead with its plan to resume cross-border propaganda broadcasts.
The military also repeated a threat to open fire at loudspeakers if they are switched on for the broadcasts.
The South has decided to resume the broadcasts after a lapse of six years as part of reprisals against the North for the sinking of a warship.
North Korea had earlier announced it was severing all ties with South Korea and cutting communications links in protest at claims that it had torpedoed one of Seoul's warships.
The state Committee for the Peaceful Reunification of Korea said South Korea's claims that it had sunk the warship were tantamount to a declaration of war.
In a statement on the official news agency, it said it was freezing relations and abrogating a non-aggression agreement.
The statement further heightened regional tensions sparked by a report last week from a multinational investigation team.
The team said there was overwhelming evidence that a North Korean submarine had sunk the South Korean corvette on March 26 with the loss of 46 lives.
Seoul Monday announced a package of reprisals, including a halt in most trade. It plans to refer the sinking to the United Nations Security Council.
The North said it would not talk to the South again for the remainder of President Lee Myung-Bak's term of office.
The conservative leader began a five-year term in February 2008, adopting a tougher line towards the North than his liberal predecessors.
The North also said all inter-Korean issues would be handled "under a wartime law" but did not elaborate.
The North denies involvement in the sinking of the corvette, despite widespread international condemnation. It threatens full-scale war if there is any attempt to punish it.
In an apparent show of strength, the South's defence ministry said the navy would stage an anti-submarine drill in the Yellow Sea on Thursday. The military also said a destroyer was stationed in the Jeju Strait off the south coast to stop the North's cargo ships using it.