US Secretary of State Hillary Clinton was in Athens Sunday to offer support for the Greek government as it tries to tackle its perilous and worsening debt crisis.
"She wants to show her support for Prime Minister (George) Papandreou, (who is) undertaking serious efforts to reduce the deficit and restore competitiveness," a senior US diplomat said, requesting anonymity.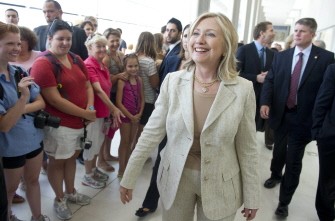 US Secretary of State Hillary Clinton smiles as she tours the Acropolis Museum in Athens on July 17, 2011, before signing a Cultural Memorandum of Understanding on import restrictions for archaeological finds between the US and Greece
Clinton is set to meet several Greek officials, including Papandreou, and Foreign Minister Stavros Lambrinidis, although the US official reminded that Washington still views the Greek debt crisis as Europe's problem to solve.
"There is not a direct US role in this. The lead we see primarily as European, the European Union, the Central Bank and the IMF," the diplomat said.
"But we certainly have a major stake in the outcome, both for our ally Greece and for Europe as a whole," the official added.
Although the situation in Greece is "very challenging," Washington believes Europe has the means to avert disaster.
"The Greek economy is about three percent of the overall EU economy, so without diminishing the challenge, if you just take it in terms of proportions, there is no reason that this massive European Union economy can't deal with the problem," the diplomat said.
Poul Thomsen, deputy European director of the International Monetary Fund, told Greece's Ethnos daily on Sunday that the Greek runaway debt is on a "knife's edge."
Athens' debt has exploded to over 350 billion euros and market hostility has kept the struggling country from raising fresh loans, forcing European leaders to the drawing board once more for a new bailout.
Although the government's tough budget cuts have so far failed to resolve the crisis and have sparked waves of protests on the streets, the US diplomat said the US believes Papandreou is making the right moves.
"He's making tough decisions as a leader has to do," the official said, adding that the US wants to "let everybody know that we think (Greece) is on the right track."
Eurozone nations will hold an extraordinary summit on July 21 in Brussels on ways to tackle a debt crisis that is threatening to spread beyond Greece, Ireland and Portugal, which have already needed foreign loans to meet their debt obligations.
Larger economies like Italy and Spain are seen to be at risk given the strained state of their public finances.