OAKLAND, California, Nov 3, 2011 (AFP) - Dozens of anti-Wall Street protesters clashed with police, occupied an empty building and torched a barricade in Oakland early Thursday, an AFP photographer said.
The masked protesters, seen hurling rocks and bottles at riot police, appeared to be a breakaway group from the larger Occupy Wall Street movement which shut down Oakland's sea port on Wednesday with a peaceful march.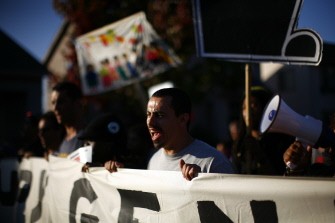 AFP - Demonstrators with the Occupy movement march on the Port of Oakland November 2, 2011 in Oakland, California.
Police responded with tear gas, and explosions could be heard echoing through the streets. It was not immediately clear if the bursts were caused by police sound grenades or fireworks set off by the protesters.
Members of the much larger group of demonstrators who had been peacefully camping out near City Hall called for calm as the violence broke out.
The dockside shutdown came after thousands of people rallied in the city center Wednesday to support a strike called after police fired tear gas while clearing a protesters' camp last week, injuring one person.
Last week's clashes were the most violent yet in the weeks-old Occupy Wall Street Movement, which has seen thousands of people camp out in several US cities to protest corporate greed and the corruption of US politics.
The Oakland Tribune reported that the vacant building had belonged to the Traveler's Aid Society, which protesters said had provided aid to the homeless before being shut down because of government cutbacks.
The protesters reportedly distributed fliers explaining that they were reclaiming the center in order to provide services.
The group had set up barricades near the building earlier and set one of them on fire as police closed in early Thursday, according to the AFP photographer.
The police moved in, pushing the protesters back and extinguishing the blaze. There were no immediate reports of arrests.