SEOUL, May 21, 2009 (AFP) - Leaders of the world's biggest cities called Thursday for a bigger say in upcoming UN climate change talks as they wrapped up a three-day summit on ways to combat global warming.
"The fight against greenhouse gas emissions will be won or lost in cities," said Toronto Mayor David Miller, chair of the C40 Large Cities Climate Summit in the South Korean capital.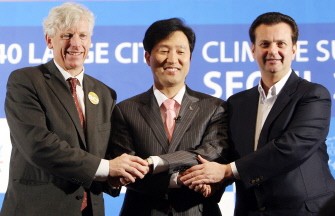 L-R: Mayor David Miller of Toronto, Mayor Oh Se-Hoon of Seoul and Mayor Gilberto Kassab of Sao Paulo pose for a photo during a press conference at the end of the C40 Large Cities Climate Summit in Seoul on May 21, 2009 (AFP photo)
The leaders in a summit declaration stressed that half the world's population lives in cities, which account for 75 percent of global energy consumption and 80 percent of greenhouse gas emissions.
"In the run-up to the... UN Climate Change Conference in Copenhagen in December 2009, the leading role of cities in the global effort against climate change must be recognised," the declaration said.
The conference in the Danish capital is meant to approve a new treaty for the period after 2012, when the Kyoto Protocol's obligations to cut carbon emissions expire.
Miller told a press conference that all C40 member cities decided to have "a strong presence" in Copenhagen. Representatives from 36 smaller cities, in addition to the biggest 40, also attended the Seoul summit.
"If countries wish to succeed, they have to include cities," Miller said.
The Toronto mayor strongly urged national governments to engage, empower and resource the world's cities so they can successfully combat climate change.
"We occupy only two percent of the area of the world but represent 80 percent of the emissions," he added.
"You must resource cities. So, help us have the tools and financing necessary because that's how to defeat the climate change in those areas. That's what we'll be saying in Copenhagen."
In their declaration, the city leaders "set a common goal of transforming themselves into low-carbon cities" by cutting emissions and making themselves less vulnerable to climate change.
Mayor Gilberto Kassab of Sao Paulo in Brazil, which will host the next C40 summit in 2011, said his city can show the way.
Kassab said Sao Paulo is successfully turning 15,000 tons of its garbage into energy every day -- enough for 700,000 people.
He said it has shifted from one of the most polluted cities into "one of the cleanest cities -- visually speaking -- of the world."
On Tuesday former US President Bill Clinton warned that if the world fails to cut emissions by 80 percent by 2050, it would pay a high price in food shortages, drought and public health dangers.
"It is absolutely certain (that) if we let the worst happen, then the consequences will be so severe that we won't be able to save the planet for our grandchildren unless we are willing to undertake enormously expensive projects which can now be avoided," he told the Seoul summit.