FRANKFURT, Sept 22, 2010 (AFP) - The biggest German airline, Lufthansa, said Wednesday it had named Christoph Franz as its new chairman and chief executive officer, a post that will mean devising a strategy to fight off low-cost carriers.
Franz, who heads the airline's passenger division, will succeed Wolfgang Mayrhuber, Lufthansa's current chairman of the executive board and CEO, a statement said.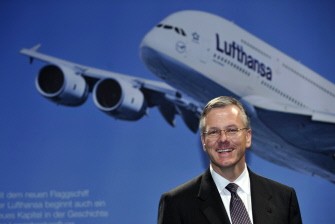 Picture taken on April 24, 2009 shows then vice-CEO German airline Lufthansa Christoph Franz posing on the podium during the company's annual general meeting in Cologne, western Germany. AFP
"The appointment will be effective from 1 January 2011, for a term until 31 May 2014 in accordance with German stock corporation law," it added.
Franz, 50, will be tasked with maintaining Lufthansa's position as Europe's leading airline by passenger numbers against growing competition.
Franz has been heir apparent to Mayrhuber, Lufthansa head since 2003, for several months.
After studying in Germany, France and the United States, Franz joined Lufthansa in 1990, before moving to the German railway Deutsche Bahn four years later where he gained executive experience.
He came back to the airline group in July 2004 as CEO of Swiss, a subsidiary he restructured and returned to profit.
Franz joined Lufthansa's executive board in June 2009 and was placed in charge of its passenger airline business.
Lufthansa said Carsten Spohr, currently head of its logistics unit Lufthansa Cargo, would replace Franz as head of passenger operations.
German press reports have said Franz holds strong opinions and has a direct management style.
In addition to Swiss, the Lufthansa group includes Austrian Airlines, BMI, brussels airlines and the regional German carrier Germanwings.
Business has been picking up for Lufthansa as the airline sector rebounds from a global economic slump and the eruption of an Icelandic volcano in April, but low-cost carriers have eaten into the German airline's European market share.