Chinese shares fell 0.39 percent in early trade Wednesday with the resource sector leading declines due to concerns about the fallout of last weekend's fatal train crash, dealers said.
The Shanghai Composite Index, which covers both A and B shares, was down 10.61 points at 2,692.42.Asian stocks rose on Tuesday although trade was cautious as investors focused on Washington where lawmakers are struggling to hammer out a deal to avert a catastrophic US default.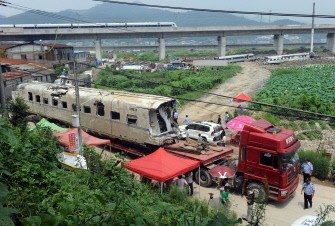 The wreckage of high-speed train carriage is carried on a truck, two days after a fatal collision, in Shuangyu, on the outskirts of Wenzhou in the eastern Chinese province of Zhejiang, on July 26, 2011
The dollar touched a four-month low against the yen in early Tokyo trade after an address to the nation by President Barack Obama failed to indicate any progress on a debt agreement.
Tokyo ended 0.47 percent, or 47.71 points, higher at 10,097.72 as the yen's strength pared gains made on the back of a batch of upbeat earnings reports on Monday as well as optimism over other results due this week.
Seoul gained 0.85 percent, or 18.22 points, to 2,168.70 and Sydney ended 0.95 percent or 42.9 points higher at 4,573.3, while Hong Kong rose 1.25 percent, or 278.79 points, to 22,572.08.
Shanghai gained 0.53 percent, or 14.28 points, to end at 2,703.03 following an almost three percent dive in the previous session on the back of the weekend's fatal high-speed rail crash in China.
However Indian shares fell 1.87 percent as investors and business leaders were spooked by a higher-than-expected 50 basis points increase in interest rates by the Reserve Bank of India as it tries to tame near double-digit inflation.
The benchmark 30-share Sensex index fell 353.07 points to 18,518.22, snapping two straight days of gains. India's inflation stood at 9.44 percent in June, but most economists had expected a 25 basis points hike.
Despite the fast-approaching deadline for the White House, Democrats and Republicans to reach a deficit-cutting budget deal, equity markets remain calm as they expect an agreement to be made in time.
While the two sides agree a default must be avoided, they disagree on how to reduce the deficit, with Democrats wanting to cut some spending and raise taxes but the Republicans vowing to oppose any tax rises.
SHK Financial analysts Daniel So said: "The current situation is similar to early last week before the passage of the Greek bailout package.
"Investors are taking a wait-and-see stance before a likely solution (to the US issue)," he told Dow Jones Newswires.
The government must raise its $14.3 trillion debt ceiling by August 2 so that it can pay its debts. A default by the world's richest country would cause a seismic event on global markets, analysts say, which would likely lead to another financial crisis and worldwide recession.
Obama has described such a scenario as economic "Armageddon".
The president late Monday went on prime time television to warn that the Republicans' unyielding approach to the US debt crisis was a "dangerous game" and urged Americans to press for compromise.
With a potential US default looming, Obama appealed to Americans to "make your voice heard".
However, Hideki Hayashi, global economist at Mizuho Securities, said: "The speech falls short of market expectations that the President might show progress on the ongoing standoff."
Obama's statement sent the dollar down to 77.89 yen, its lowest level since March 17, after the Japanese earthquake.
The greenback later saw volatile trade. After the speech it recovered to 78.70 yen before falling back through the rest of the day to 78.15 in late Tokyo trade.
The euro was at $1.4472 from $1.4382 in New York Monday and at 113.14 yen from 112.37 in New York.
While attention is mostly on events in Washington, Japanese traders were given some support by earnings data from camera giant Canon, which jumped after it raised its earnings outlook for the year on Monday.
Household goods maker Kao soared in the wake of its upbeat earnings announced Monday.
On oil markets New York's main contract, light sweet crude for September delivery, advanced 37 cents to $99.57 a barrel and Brent North Sea crude for September eased 29 cents to $117.65.
Gold closed in Hong Kong at $1,611.00-$1,612.00 an ounce, down from Monday's finish of $1,617.00-$1,618.00.
In other markets:
-- Singapore closed 0.47 percent, or 15.02 points higher at 3,186.57.
CapitaLand was 0.34 percent up at Sg$2.93 and DBS gained 0.47 percent to Sg$15.10.
-- Taipei gained 1.28 percent, or 110.73 points, to 8,794.24.
HTC rose 5.66 percent to Tw$970.0 while TSMC was 2.36 percent higher at Tw$73.7.
-- Manila fell 0.33 percent, or 14.63 points, to 4,465.87.
Semirara Mining lost 0.17 percent to 240 pesos while San Miguel eased 0.85 percent to 127.90 pesos.
Philippine Long Distance Telephone rose 0.25 percent to 2,398 pesos.
-- Wellington fell 0.34 percent, or 11.53 points, to 3,416.62.
Contact fell 2.7 percent to NZ$5.15 and Telecom shed 0.8 percent to NZ$2.62 while NZ Oil & Gas dived 4.1 percent to NZ$0.70.
Bucking the trend, Fisher & Paykel Healthcare jumped 3.2 percent to NZ$2.55.
-- Jakarta rose 1.12 percent, or 45.68 points, to 4,132.77.
Bank Negara Indonesia jumped 3.7 percent to 4,175 rupiah and coal producer Adaro rose 3.0 percent to 2,575 rupiah.
-- Kuala Lumpur ended up 0.14 percent, or 2.17 points, at 1,561.77.
Malayan Banking added 0.2 percent to 8.85 ringgit and Genting Malaysia rose 0.3 percent to 3.81 ringgit.
Newly-listed PeterLabs Holdings lost 20 percent to 0.24 ringgit while Axis Real Estate Investment Trust shed 2.3 percent to 2.56 ringgit.
-- Bangkok fell 0.53 percent, or 5.95 points, to 1,121.63.
Banpu lost 6.00 baht to 744.00, while Siam Cement gained 6.00 baht to 375.00.
dan/slb