Chinese President Hu Jintao was to meet with his Cameroonian counterpart Paul Biya Wednesday on the first full day of his 12-day tour of Africa to forge stronger ties on the resource-rich continent.
After a morning meeting with Biya, where the two were to sign a series of bilateral cooperation agreements, Hu was to visit a Chinese-funded hospital and a sports ground being built by a Chinese firm in the west African state.
A gala dinner is scheduled for later Wednesday.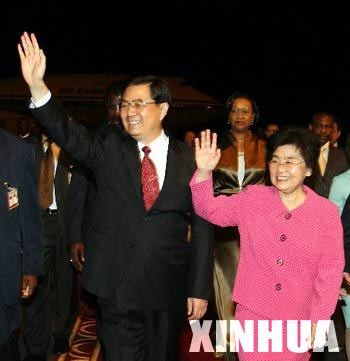 Chinese President Hu Jintao and his wife Liu Yongqing wave to welcomers after their arrival at the airport in Yaounde, capital of Cameroon.
Hu's trip marks the first visit by a Chinese president to Cameroon, with bilateral trade doubling last year to 338 million dollars, according to Chinese officials.
The eight-nation tour, Hu's third since he took power in 2003, reflects China's strong economic interest in Africa, where Beijing is seeking raw materials and energy reserves to fuel its own roaring economic growth.
Oil-rich Sudan, scene of the ongoing brutal conflict in the Darfur region described by the United States as genocide, will be the third stop on Hu's trip when he arrives in Khartoum on Friday.
The visit to Sudan, where China is busy pumping oil, will provide Hu with an opportunity to add his voice to international calls for an end to the conflict.
China, by far the biggest foreign economic player in Sudan, is seen as being in a position to persuade Khartoum to accept UN peacekeepers for Darfur, and expectations are high China will flex its diplomatic muscle as it seeks to burnish its international image.
Chinese officials visiting Sudan had until recently said Beijing would pursue its economic interests on the continent without delving into politics.
But before Hu set off on his tour, assistant foreign minister Zhai Jun told journalists: "I believe this visit will not only boost bilateral ties, but also peace and stability in this region."
A primary goal of Hu's trip is to continue building economic ties with Africa.
Trade between the two sides reached 55.5 billion dollars last year, a more than five-fold increase from 10.79 billion dollars in 2001, according to official Chinese figures.
Chinese Premier Wen Jiabao said last year he hoped Sino-African trade would reach 100 billion dollars by 2010.
China insists its economic policies are helping to lift the continent out of poverty.
At a historic summit in November last year that brought leaders from 48 African nations to Beijing, Hu pledged to double aid to the continent and offer five billion dollars in loans and credits by 2009.
Emphasising its commitment to Africa, China said on Monday it would write off debts owed by 33 African countries as part of a multi-billion-dollar pledge made last year to help fast-track the continent's development.
Hu leaves Cameroon on Thursday for Liberia. After visiting Sudan on Friday and Saturday, the Chinese president heads to Zambia, Namibia, South Africa, Mozambique and the Seychelles in his tour that runs until February 10.