China's consumer inflation accelerated in July, the government said Wednesday, as the nation's worst floods in a decade wiped out crops and disrupted transport links, driving up food prices.
Other key indicators showed the world's third-largest economy was slowing after Beijing moved to wind back massive stimulus spending, close inefficient factories, and curb soaring property prices and bank lending.
The closely watched consumer price index, a key measure of inflation, rose 3.3 percent in July, compared with 2.9 percent in June, due in large part to "dramatic weather and serious floods", the National Bureau of Statistics said.
But spokesman Sheng Laiyun insisted China could keep prices "basically stable" for the year and meet the government's three-percent inflation target.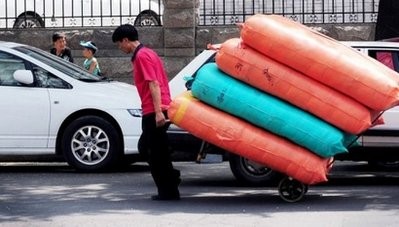 A worker delivers bags of produce to a wholesale market in Beijing on August 10, 2010
"Generally speaking, there are more factors that will curb price rises than factors that will fuel price rises," Sheng told reporters, pointing to slowing economic growth and the government's efforts to curb lending.
But he warned that wage hikes and commodity price rises, as well as increases in international grain prices, could push consumer prices higher.
Russia, battling a record drought and massive wildfires, shocked commodity markets last week by suspending wheat exports, triggering warnings of across-the-board price rises in global staples such as meat, bread and beer.
Industrial output from China's millions of factories and workshops slowed in July, rising 13.4 percent year-on-year compared with 13.7 percent in June.
Fixed asset investment in urban areas, a measure of government spending on infrastructure, rose 24.9 percent over the January-July period, compared with 25.5 percent a year ago as Beijing reined in spending.
Retail sales, a key measure of consumer spending, rose 17.9 percent on-year.
The data sent Chinese shares down 0.14 percent in afternoon trade, off the morning's highs.
Analysts said the data adds to mounting evidence that the Chinese economy is losing steam as the government maintains tightening measures introduced this year to avert overheating in the red-hot economy.
New lending fell to 532.8 billion yuan (78.8 billion dollars) in July from 603.4 billion yuan issued in June, and was below expectations.
"I think the picture is pretty clear that the entire economy is slowing," Ken Peng, a Beijing-based economist for Citigroup, told AFP.
"The government is probably not hitting the panic button yet because even though the direction is clear, growth is still at a relatively high level."
Government data released earlier showed that imports slowed for the fourth straight month in July, while property prices rose at a steadier pace and manufacturing activity contracted for the first time in 16 months.
China slowed in the second quarter, growing by 10.3 percent compared with a sizzling 11.9 percent in the first three months, but the government has warned that it expects the economy to slow in the second half.
Sheng said the slowdown would help avert economic overheating and help the country move to a more sustainable development path.
The sharp rise in consumer prices, however, could continue in the months ahead, forcing policymakers to tighten interest rates, said Brian Jackson, a senior analyst at the Royal Bank of Canada in Hong Kong.
"We expect China will join the regional trend in favour of gradual policy normalisation sometime soon, forecasting an initial rate hike in the fourth quarter of this year," he said.