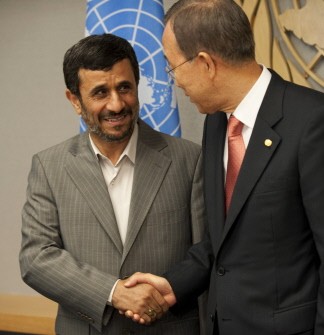 United Nations Secretary General Ban Ki-moon (R) meets with Iran's President Mahmoud Ahmadinejad signs his guest book during the 2010 High-level Review Conference of the Parties to the Treaty on the Non-Proliferation of Nuclear Weapons May 3, 2010 at the United Nations In New York. AFP PHOTO
BEIJING, May 5, 2010 (AFP) - Chinese President Hu Jintao will discuss the Iranian nuclear standoff with Russian leaders during a weekend visit to Moscow, a Chinese official said Wednesday, noting the two sides had "similar views".
Hu will meet President Dmitry Medvedev and Prime Minister Vladimir Putin during the May 8-9 visit, during which he will attend ceremonies marking the 65th anniversary of the end of World War II, the official said.
"The leaders of the two countries will exchange views on international and regional issues of shared interest, which of course includes the Iranian nuclear issue," Assistant Foreign Minister Cheng Guoping told journalists.
"China and Russia have similar views on this issue."
The United States, Europe and others fear Iran is using its civilian nuclear energy programme as a cover for a weapons drive -- a charge Tehran has repeatedly denied -- and are seeking tough new UN sanctions.
But Beijing -- one of the five permanent veto-wielding members of the 15-member Security Council -- has been reluctant to embrace more sanctions on Iran, which is a major energy provider to China.
Medvedev has repeatedly said Russia, also a veto-wielding council member, does not rule out further sanctions against the Islamic republic but that they should not hurt the wider population.