China's first aircraft carrier -- a former Soviet ship it bought from Ukraine and refurbished -- entered service Tuesday, the defence ministry in Beijing said, naming it as the Liaoning.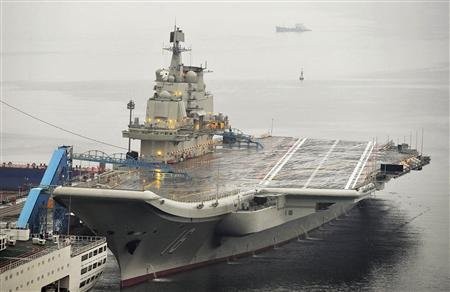 China's first aircraft carrier, which was renovated from an old aircraft carrier that China bought from Ukraine in 1998, is seen docked at Dalian Port, in Dalian, Liaoning province in this September 22, 2012.
"Having the aircraft carrier enter the ranks will be of important significance in raising the overall fighting capacity of our nation's navy to a modern level," the ministry said in a statement.
The commissioning makes China the last permanent member of the United Nations Security Council to have an aircraft carrier, and comes at a time of increased maritime tensions in the region.
The 300-metre (990-foot) ship was named after the northeastern province that is home to China's main naval port city of Dalian, where its refit was carried out.
The defence ministry said the vessel will "increase (China's) capacity to defend, develop its capacity to cooperate on the high seas in dealing with non-traditional security threats and will be effective in defending the interests of state sovereignty, security and development".
Domestic press said on Sunday that the vessel had been handed over to the navy of the People's Liberation Army by its refitters.
There had been swirling speculation on what the vessel was to be called, with retired Major General Luo Yuan suggesting naming it Diaoyu, after islands in the East China Sea claimed by China, which are also claimed by Japan and called Senkaku by Tokyo.
The announcement comes at a time of heightened maritime disputes over the islands and elsewhere in the Asia-Pacific region, where China's growing assertiveness has put it on a collision course with Japan, Vietnam and the Philippines.
Beijing on Sunday postponed a ceremony marking the 40th anniversary of the establishment of diplomatic ties with Tokyo.
Tensions have also risen this year with Vietnam and the Philippines over disputed islands in the South China Sea.
Beijing confirmed last year it was revamping the former Soviet ship, and has repeatedly insisted the carrier poses no threat to its neighbours and will be used mainly for training and research purposes.
But numerous sea trials of the aircraft carrier -- which was previously only known as "Number 16" -- since August 2011 were met with concern from regional powers including Japan and the United States, which called on Beijing to explain why it needed such a ship.