An official in charge of China's foreign reserves tried to ease American concern Tuesday about the political impact of Beijing's huge holdings of U.S. government debt.
"This is a purely market-driven investment behavior. I would hope not to see this matter politicized," the chief foreign exchange regulator, Yi Gang, said at a news conference.
He was responding to a question about concerns among some American lawmakers that Beijing's holdings of U.S. debt pose a political threat to the United States.
"China is a responsible investor and we fully believe such investments can be mutually beneficial," Yi said.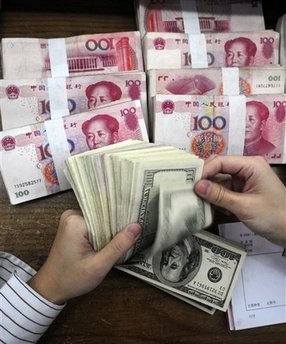 In this Oct. 16, 2009 file photo, a bank clerk counts U.S. 100 dollar bills near bundles of Chinese renminbi notes at a bank in Hefei, in central China's Anhui province.
China's $2.4 trillion in foreign reserves are the world's largest and their management is closely watched by financial markets, especially as governments raise money for stimulus and struggling companies look for investment.
China is the biggest foreign owner of U.S. government debt and some American commentators have suggested it might abruptly sell Treasurys to express anger over Tibet, Taiwan or other strains. Beijing has never publicly threatened such a move, which would be expensive and could hurt China by causing problems in a key export market.
China's holdings of Treasury securities stood at $894.8 billion at the end of December, according to the U.S. Treasury. An earlier report showed China dropping behind Japan as second-biggest Treasury owner, but the Treasury said that did not include purchases in such places as Britain.
The Treasury market is "very important" to Beijing, said Yi, a deputy central bank governor and director general of the State Administration of Foreign Exchange. He said SAFE buys and sells Treasurys nearly every day.
China's reserves are a function of its huge trade surplus and exchange rate controls that require the central bank to buy up foreign currency that flows into the country to maintain the stability of its currency, the yuan.
Preliminary estimates show last year's current account surplus — the broadest measure of trade, taking into account investment flows as well — was $284.1 billion, according to a report distributed at Yi's news conference.
Yi said Beijing is studying the possibility of expanding its sovereign wealth fund, the China Investment Corp., which was created in 2007 with $200 billion to earn better returns by making commercial investments. That contradicted earlier reports by the Chinese press that the fund was about to receive up to $250 billion.
"We are still studying this matter and no decision has been made yet," Yi said. He gave no details of other possible changes in the fund or its investments.