China on Monday informed Republic of Korea (RoK) that six-party talks aimed at ending Democratic People's Republic of Korea (DPRK)'s nuclear programmes, due to resume this week, have been postponed, officials said.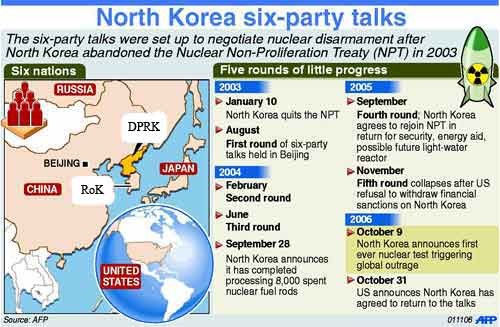 The places held the six- party talks on DPRK nuclear
"The Chinese side has notified that the six-party talks will not open on September 19," a RoK's foreign ministry official told AFP.
The official said host China had not given a new start date for the talks, at which the six parties had hoped to set a firm deadline for the disabling of DPRK's nuclear facilities, in line with a deal reached in February.
Foreign ministry officials in Seoul would not explain the reason for the delay and how long the talks could be postponed for.
But RoK's Yonhap news agency quoted unidentified foreign ministry officials as saying the North appeared to be unhappy with the delayed shipment of heavy fuel oil from China.
"It appears the North's refusal is a simple protest against something it is not happy with, rather than to squeeze more out of the others," one official was quoted as saying.
Beijing promised to start providing 50,000 tons of oil before the end of August, but it has failed to do so, Yonhap said.
A Beijing-based diplomat, who asked not to be identified, told AFP: "One of the parties is dragging its feet."
"The Chinese side said it would continue consultations with other parties about schedules for the talks," which involve the two Koreas, China, Japan, Russia and the United States, the RoKn foreign ministry official told AFP.
In a landmark six-nation deal brokered in February, DPRK agreed to dismantle all of its nuclear facilities and programmes in exchange for diplomatic concessions and one million tons of oil or equivalent aid.
RoK completed its oil shipment in July.
A US-led team of nuclear experts said Saturday they had held "very positive" talks with DPRK officials on a plan to disable the communist state's nuclear facilities during a trip to Pyongyang last week.