BEIJING, July 25, 2011 (AFP) - China on Monday revised the death toll from a high-speed train crash to 36, with 192 people wounded, in the country's worst rail accident since 2008.
A statement from the railway ministry gave the new figures and said the cause of the accident on the outskirts of the eastern Chinese city of Wenzhou was still being investigated.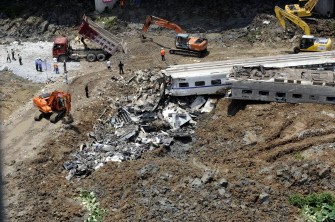 AFP - This aerial photo taken on July 24, 2011 shows workers clearing the wreckages after the two high-speed trains collided
Railway Minister Sheng Guangzu said the government would "take resolute and strong measures to carry out a serious safety inspection campaign to completely identify and eradicate hidden safety risks".
"(We) should firmly prevent any more serious accidents and quickly stabilise the safe transportation situation," he added.
Official news agency Xinhua on Sunday put the death toll at 35 and later reported that eight bodies had been pulled from the wreckage, but it was not immediately clear whether those were included in the original count.
The government moved swiftly to ease public concern after the accident, sacking three senior officials at the Shanghai railway bureau and launching an "urgent overhaul" of national rail safety.
Hundreds of millions of Chinese depend on the country's railways and any problems generate tremendous public interest in a country where, despite a three-decade economic boom, air travel remains beyond the means of most people.
A new $33 billion high-speed link between Beijing and Shanghai opened to passengers amid much fanfare on June 30 -- a year ahead of schedule -- but has suffered power cuts and delays, prompting criticism on blogs and in the media.
Saturday's rail accident was the worst since April 2008, when 72 people were killed and more than 400 injured when one train derailed and another collided with it in the eastern province of Shandong.