BEIJING, Sept 12, 2010 (AFP) - China warned on Sunday it would reject any investigation by Tokyo into a ship collision in disputed waters that left a Chinese vessel in Japanese custody as a diplomatic row rumbled on.
Meanwhile, Japan said it had complained to China after Beijing called off planned negotiations over oil and gas fields in the contested area of the East China Sea in protest at Japan's seizure of the Chinese fishing boat.
Any Japanese investigation into the collision Tuesday between a Chinese trawler and two Japanese coast guard vessels near islands claimed by both sides would be "illegal, invalid and in vain," the Chinese foreign ministry said.
The statement came after China's official Xinhua news agency said Japanese authorities on Sunday towed the Chinese boat -- with its 14 fisherman aboard -- to seas in the area to recreate the situation at the time of the collision.
"China urges Japan to cease actions that escalate the situation and immediately and unconditionally release the crew and ship. This is the only way to solve this problem," a statement on the foreign ministry's website said.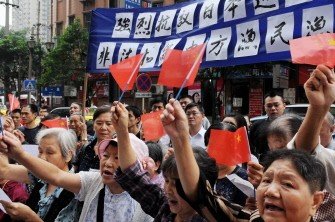 A group of elderly Chinese people, portraying themselves as WWII survivors who witnessed the astrocities committed by Japanese soldiers, hold placard saying "Strongly protest against the illegally seizure of a Chinese trawler by Japanese vessels", in southwest China's Chongqing municipality on September 10, 2010. AFP
The row has cast a cloud over what had been a steady improvement in relations between the traditional East Asian rivals in recent years as their economic relationship has deepened.
Chinese State Councillor Dai Bingguo summoned Ambassador Uichiro Niwa in the early hours of Sunday to warn Japan must make a "wise political decision" and free the trawler and crew, China's foreign ministry said.
It was the fourth time he had been called in.
Dai, the government's senior foreign policy official, is the highest-ranking Chinese official to weigh in on the affair.
The row escalated Saturday when a Chinese vessel confronted two Japanese survey ships at sea, and Beijing called off the talks with Tokyo set for later this month over their competing maritime claims in the area.
"The Japanese government regrets that China unilaterally announced it would postpone the talks," a foreign ministry official said on Sunday, adding that Japan conveyed the message to Beijing through diplomatic channels.
Beijing had earlier warned Tokyo of a "serious impact" on ties if the trawler and its crew are not released.
Tokyo suspects the trawler captain deliberately rammed the two Japanese vessels near the disputed island chain. Four Japanese patrol boats later pursued and seized the Chinese trawler.
The uninhabited islands -- known as Senkaku in Japan and Diaoyu in China -- lie between Japan's Okinawa island and Taiwan. They are claimed by Tokyo, Beijing and Taipei and are a frequent focus of regional tensions.
There are four controversial Chinese gas fields in the sea that Japan says extend into its own exclusive economic zone (EEZ).
China said Thursday that a Chinese "law enforcement" ship had been sent to the area to "protect" its fishermen there.
On Saturday, the Japanese coast guard said the ship approached two of its survey vessels and ordered them to cease operations. It said Japan lodged a diplomatic complaint over the incident.
The fishing boat's captain, 41-year-old Zhan Qixiong, was arrested Wednesday on suspicion of obstructing officers on duty -- a charge that carries a maximum sentence of three years' imprisonment.