BEIJING, July 26, 2011 (AFP) - China's railway minister has called the deadly weekend high-speed train crash a "bitter lesson" and said a resulting safety crackdown would last for two months, the government announced Tuesday.
Sheng Guangzu also said an "urgent" safety campaign announced earlier by his ministry would include a special focus on the nation's high-speed rail system, which has come in for fierce public criticism after the accident.
"The July 23 incident has taught us a bitter lesson," Sheng said in a statement released by the government.
"We must on one hand extract these lessons and deeply examine and reflect on them, while rousing ourselves from this setback and concentrating our efforts on inspecting and rectifying hidden safety problems," he said.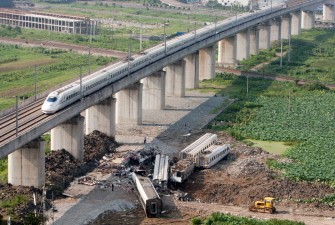 AFP - A bullet train passes the wreckage of two other high-speed trains which collided two days earlier
The statement said Sheng made the comments on Sunday in a railway ministry teleconference to discuss efforts to respond to the crash.
The death toll from Saturday's crash near the eastern city of Wenzhou has risen to 39, with nearly 200 others wounded.
Two high-speed trains collided during a heavy thunderstorm, apparently after a lightning strike knocked out power to the first one and the second one barrelled into it from behind.
The incident has badly shaken public faith in the rail system, especially the high-speed network.
"A two-month safety inspection campaign will be held, concentrating on checking for and rectifying prominent safety problems and rapidly stabilising the safety situation," Sheng said.
"Prominent emphasis" would be placed on inspecting the nation's high-speed rail and passenger train systems, he said.
The crash has triggered public accusations that safety had been compromised in the rush to develop a modern high-speed rail network.
China's high-speed rail system only opened to passengers in 2007, but has grown at breakneck speed thanks to huge state funding and is already the largest in the world, with 8,358 kilometres of track at the end of last year.