China's top policeman vowed to "severely strike" at anyone caught attacking schools, in an angry diatribe following a kindergarten bloodbath -- the fifth such assault in just a few weeks.
In a speech following Wednesday's attack in northern China that left nine people dead, including seven children, Public Security Minister Meng Jianzhu urged police at all levels to ensure schools are protected.
"We must strike at the criminals so that they don't dare lay their hands on the children," Meng said in a speech posted on his ministry's website.
"We must thoroughly adhere to our strike hard policy, severely strike at all illegal criminal acts aimed at violating or harming the lives and property of teachers, students and children."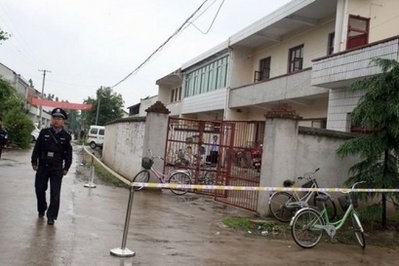 A Chinese policeman walks past a kindergarten where seven children and two adults were killed in Hanzhong, Shaanxi province.
On Wednesday, a disgruntled landlord armed with a meat cleaver hacked to death seven young children, all under the age of five, and two adults at a kindergarten in Shaanxi province, state press reports said.
Eleven other children were injured, two seriously.
The incident, which ended with the assailant's suicide, was the fifth attack on children in less than two months and comes despite a push to boost security in and around schools across the country.
Local villager Wu Huanming, 48, used a kitchen cleaver to carry out the killings in the city of Hanzhong, Xinhua news agency quoted the Shaanxi provincial emergency office as saying.
A preliminary police investigation found that Wu had rented a house to the proprietor of the privately-run kindergarten and was upset that the property was not vacated in April, when the lease expired.
More than 2,000 security guards dressed in riot gear were sent to some Beijing schools on Wednesday, but thousands more were needed to patrol the capital's schools alone, the Beijing News said, citing police.
Similar scenes were occurring nationwide, press reports said, with armed police seen at schools in the city of Changsha, capital of the central province of Hunan.