SHUANGYU, China, July 24, 2011 (AFP) - China has ordered an "urgent" overhaul of rail safety, state media said Sunday, after 35 people were killed in the worst accident ever to hit the country's high-speed train network.
The collision of two trains in eastern China is likely to raise fresh questions over the rapid roll-out of the country's high-speed rail network, the world's biggest at more than 8,000 kilometres (5,000 miles).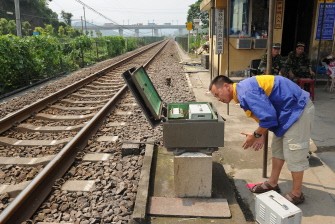 AFP - A railway worker checks a track on July 24, 2011 adjacent to the one (in background) where two high-speed trains collided the night before in the town of Shuangyu
The government moved swiftly to ease public concern, sacking three senior officials at the Shanghai railway bureau and launching an "urgent overhaul" of national rail safety, official news agency Xinhua said.
Hundreds of millions of Chinese depend on the country's railways and any problems generate tremendous public interest in a country where, despite a three-decade economic boom, air travel remains beyond the means of most people.
A new $33 billion high-speed link between Beijing and Shanghai opened to passengers amid much fanfare on June 30 -- a year ahead of schedule -- but has suffered power cuts and delays, prompting criticism on blogs and in the media.
An initial investigation into Saturday's crash in Shuangyu, on the outskirts of the eastern city of Wenzhou, blamed "equipment failure caused by lightning strike", the railway ministry said in a statement.
Xinhua said an express that lost power after being struck by lightning was hit by a second train, sending four carriages plunging from a viaduct and derailing another two. Two foreigners were among the dead, it reported.
Lin Hui, 49, was walking to his seat on the second train when the force of the collision threw him to the floor.
"I got up and I realised that part of the carriage that I had been walking around had been completely squashed," Lin told AFP from his hospital bed in Wenzhou.
"I remember seeing an older lady with a little kid -- they must be dead."
One passenger said the crash "felt like an earthquake" while another said he was trapped in a carriage with more than 60 other passengers for over an hour after the accident, which also wounded 210 people.
"I went to the scene as soon as I could and I saw lots of injured people. One man and woman were covered in blood, I don't know whether they survived," a 54-year-old man who asked not to be named told AFP in Shuangyu.
Much of the wreckage had been cleared from the site by Sunday afternoon, but Xinhua said a young boy had been found alive in one of the damaged carriages about 21 hours after the crash.
The toddler was unconscious and had been taken to a local hospital, Xinhua said, quoting local firefighters.
China has ploughed huge sums of money into its high-speed rail network, which covered 8,358 kilometres by the end of 2010 and is expected to exceed 13,000 kilometres by 2012 and 16,000 kilometres (10,000 miles) by 2020.
The high cost of the new network has sparked fears over corruption, and China's state auditor has said construction companies and individuals last year siphoned off 187 million yuan ($29 million) from the Beijing-Shanghai project.
The revelation followed the sacking of former railway minister Liu Zhijun in February, who allegedly took more than 800 million yuan in kickbacks over several years on contracts linked to China's high-speed network.
Shortly after his sacking, the railway ministry said trains would run between 250 and 300 kilometres per hour on the new Beijing-Shanghai link, which is designed for a maximum speed of 380 kph, for safety reasons.
Thousands of web web users blamed railway officials for Saturday's accident, calling on the ministry's chief engineer to resign and posting pictures of current Railway Minister Sheng Guangzu with an red X across his face.
"It once again proved that absolute monopoly will inevitably lead to absolute corruption," one netizen called Lian Peng posted on Sina's popular Twitter-like service Weibo.
Saturday's rail accident was the worst since April 2008, when 72 people were killed and more than 400 injured when one train derailed and another collided with it in the eastern province of Shandong.