BEIJING, July 30, 2011 (AFP) - China needs at least three aircraft carriers to defend its interests, a general said, days after the state media broadcast footage of its first carrier in a rare public mention of the project.
"If we consider our neighbours, India will have three aircraft carriers by 2014 and Japan will have three carriers by 2014," General Luo Yuan, a senior researcher with the Academy of Military Sciences, was quoted as saying by Beijing News.
"So I think the number (for China) should not be less than three so we can defend our rights and our maritime interests effectively."
His comments, published Friday, came after China sought to downplay the capability of its first aircraft carrier, saying on Wednesday the vessel would be used for training and "research".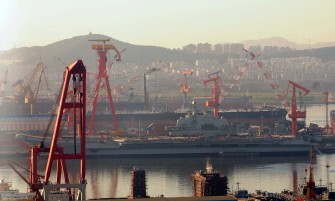 AFP file - This photo taken on July 4, 2011 shows China's first aircraft carrier, the former Soviet carrier Varyag which China bought from Ukraine in 1998, undergoing a re-fitting at the port of Dalian, in northeast China's Liaoning province.
Beijing believes that the three Japanese carriers it referred to, built for helicopter operations, could eventually be converted into full aircraft carriers.
China recently confirmed it was revamping an old Soviet ship to be its first carrier, a project that has added to regional worries over the country's fast military expansion and growing assertiveness on territorial issues.
"We are currently re-fitting the body of an old aircraft carrier, and will use it for scientific research, experiments and training," defence ministry spokesman Geng Yansheng told a news briefing.
Asked whether the carrier's addition to China's military arsenal would significantly raise the country's military capability, Geng said only that to "overrate or underrate the carrier's role are both incorrect".
The United States on Friday welcomed China's mention of the carrier, calling it a step toward better transparency between the Pacific powers.
China's People's Liberation Army -- the largest armed force in the world -- is extremely secretive about its defence programmes, which benefit from a huge and expanding military budget boosted by the nation's runaway economic growth.
The PLA also operates the country's navy.