At least 96 people were killed and 2,000 missing Sunday after mudslides swept away homes and destroyed roads in northwestern China as the nation battled its worst flooding in a decade.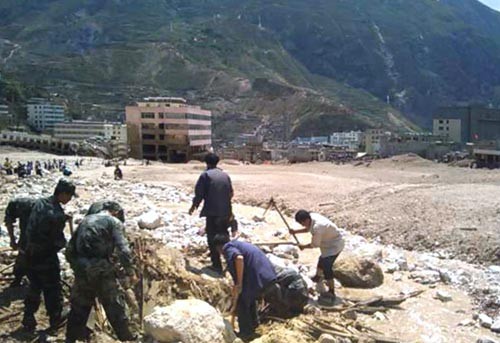 Rescuers clear up stones and mud on a road after a landslide destroyed a village of more than 300 families in Zhouqu County, Gannan Tibetan Autonomous Prefecture in Gansu Province, August 8, 2010. (Photo: Xinhua)
At least one village was buried entirely and deep rivers of sludge and rocks were hampering rescue efforts in the devastated region of Gansu province, where more than 20,000 people have been evacuated, state media said.
Authorities have sent nearly 3,000 soldiers and about 100 medics to help in search and rescue efforts after the landslides in the remote ethnically Tibetan region triggered by a deluge of rain late Saturday, reports said.
Premier Wen Jiabao was also travelling to the mountainous region, as both he and President Hu Jintao urged rescuers to spare no effort to save lives in the latest natural disaster to strike the country, the official Xinhua news agency said.
At least 50,000 people have been affected by floods which submerged half of Zhouqu county at one point, Xinhua said, citing Mao Shengwu, the head of the affected Gannan prefecture.
The landslides swept mud, houses, cars and other debris into a river running through the county, blocking the waterway and triggering flooding in the valley, the government said.
One village was buried as floodwaters reached as high as three storeys at one point, Xinhua said.
State television broadcast images of local residents walking through streets clogged with mud and debris and pictures of buildings swept off their foundations or destroyed by the mudslides and flooding.
Other images showed buildings and vehicles partly submerged by muddy water and soldiers frantically shovelling mud as they searched for the missing. Reports said more than 680 people had been rescued so far, including five who had been stranded on top of a building.
So far rescuers have not been able to use heavy machinery in the search due to the sludge and wreckage, relying instead on shovels and their bare hands to search for survivors, Xinhua said.
Reports said 76 people had also been injured.
Torrential rains that started Saturday had now stopped, reports said, but the local weather bureau has forecast more heavy rain in the upper reaches of the Bailong River on Tuesday and Wednesday.
"The water of the Bailong River flowed into the county seat and many people were trapped," said Diemujiangteng, the head of Zhouqu county.
"Now the sludge has become the biggest problem to rescue operations. It's too thick to walk or drive through."
Some streets were covered with sludge as deep as one metre (three feet), Xinhua said.
As many as 300 houses were buried in the landslides which destroyed roads and bridges while telecommunications, water, electricity and transport links have been cut in the region, reports said.
"Someone said the fifth floor of my residential building has been submerged. People are busy looking for their family members and friends," local resident Li Tiankui was quoted by Xinhua as saying.
Floodwaters have receded by 40 centimetres after authorities used explosives to blast the debris blocking the river, China News Service and Xinhua said.
According to government figures issued before the latest disaster, the number of people killed or missing in devastating floods across China this year had risen to more than 2,100.
China's civil affairs ministry said Friday 1,454 people had died, another 669 were still missing and more than 12 million had been evacuated from their homes.
Large swathes of China have been hit by summer deluges that have triggered the worst floods in a decade, caused countless deadly landslides and swollen many large rivers to dangerous levels.
According to the ministry, 1.4 million homes have been destroyed by the floods that have also caused 275 billion yuan (41 billion dollars) in direct economic losses for the year.
China's northeast is the worst-hit area, with entire towns flooded and rivers bordering North Korea swollen to critical levels, prompting fears of deluges in both countries.
China has suspended shipping and tourist boat traffic on the Yalu River, which forms the border with North Korea, over fears of flooding.
In North Korea, floods had also washed away homes, roads, railways and farmland in the deeply impoverished nation, state media said, but gave no casualty figures.
In August 2007, the country's worst floods in a decade left at least 600 people dead or missing.