BEIJING, July 4, 2011 (AFP) - The foreign ministers of China and Japan on Monday called for better relations between the Asian neighbours, who have repeatedly quarrelled over disputed maritime territories.
Chinese Foreign Minister Yang Jiechi and his Japanese counterpart Takeaki Matsumoto emphasised the positive at the start of their talks at the Diaoyutai guest house in central Beijing, where foreign officials are often received.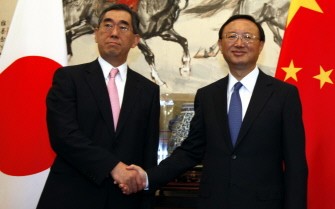 AFP - Japanese Foreign Minister Takeaki Matsumoto (L) shakes hands with Chinese Foreign Minister Yang Jiechi (R) as they pose for a picture as Matsumoto visits the Diaoyutai state guesthouse in Beijing on July 4, 2011.
"I am willing to improve China's relations with Japan," Yang said in welcoming Matsumoto, who took office in March.
The Japanese minister in turn highlighted his frequent contacts with Yang since assuming his post and said stability was "important to the two nations".
Beijing and Tokyo have repeatedly quarrelled over the years over maritime territories, and Japan has often voiced concern about China's rising defence spending and increasingly assertive stance as a naval power.
Last year, China and Japan -- the world's number two and three economies -- locked horns after Japan arrested a Chinese captain for ramming his trawler against Japanese coastguard ships off disputed islands in the East China Sea.
In June, China denied claims that one of its marine research vessels had been active inside Japan's exclusive economic zone, after Tokyo filed a formal diplomatic protest with Beijing.
Chinese media has reported that the vessel was on a mission in the Pacific to test water for radioactive contamination after the March 11 earthquake and tsunami that damaged the Fukushima nuclear plant on Japan's eastern coast.
Also last month, Japanese media reported extensively on a flotilla of 11 Chinese warships that sailed between Japan's southern islands of Okinawa and Miyako.
The Chinese ships conducted drills including target practice about 1,500 kilometres (930 miles) south of Okinawa, Kyodo News reported, quoting Japan's defence ministry.
Tensions in the South China Sea have escalated in recent weeks, with Vietnam and the Philippines protesting at what they see as China's increasingly aggressive stance in the strategic region.