China, Japan and South Korea have held their first summit in two years, looking for a breakthrough on the North Korea crisis and a way to patch up their own tense relations.
New Japanese Prime Minister Shinzo Abe has made better ties with his Asian neighbours a priority since taking office in September from Junichiro Koizumi, whose war shrine visits stirred up anger over Japan's militarist past.
China and South Korea repeatedly denounced those visits, which resulted in both countries putting off high-level meetings with Japan. But Abe visited both Beijing and Seoul after he took office last year.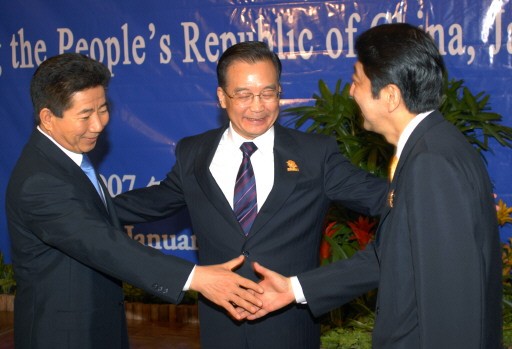 Three Asian leaders, President Roh Moo-hyun of South Korea (L), Premier Wen Jiabao of China (C), and Prime Minister Shinzo Abe of Japan (R) shake hands
The closely-watched meeting between Abe, Chinese Premier Wen Jiabao and South Korean President Roh Moo-Hyun comes on the sidelines of the annual Southeast Asian summits taking place in the Philippines.
Abe and Wen held their own meeting just before the three-way talks began, and the Chinese leader hailed the thaw in their relations.
"Last year you paid an important visit to China and due to the common efforts between our countries, we have found a solution to eradicate the obstacles in our relationship," Wen told the Japanese leader.
"We are happy to see that China-Japan relations are moving forward. This is in the interest of the people in our two countries, Asia and the whole world," he said. "We still have a lot of difficulties and issues in front of us."
The crisis on the Korean peninsula figures to be high on the summit's agenda after North Korea's nuclear test in October and the lack of progress in subsequent international talks with Pyongyang.
The three neighbours are also expected to agree on starting negotiations on a trilateral investment treaty, Japanese officials said.
Abe, Roh and Wen were meanwhile also holding their own summits with the 10-member Association of Southeast Asian Nations (ASEAN), which called Sunday on North Korea not to carry out a second weapons test.
ASEAN also urged Pyongyang to address the "humanitarian concerns of the international community" over North Korea, one of the world's most impoverished and isolated regimes.
The bloc voiced its support for the six-party talks with the North and said the international community "must convey in clear terms to (North Korea) that the latter must denuclearise in a verifiable manner".