China on Thursday launched a new warning to foreign countries not to interfere in its affairs in Tibet and Taiwan -- two issues that have badly strained ties with the United States.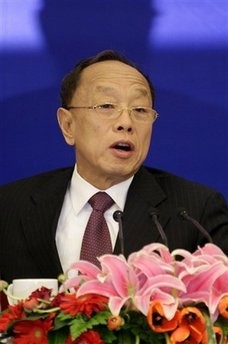 Spokesperson for the National People's Congress (NPC) Li Zhaoxing speaks at a press conference in the Great Hall of the People in Beijing, China, Thursday, March 4, 2010. (AFP Photo)
Washington irked Beijing in January when it approved the sale of a 6.4-billion-dollar package of arms to Taiwan, and then again a month later when US President Barack Obama met the Dalai Lama at the White House.
Without referring specifically to the US leader, a Chines government spokesman said Western leaders should have better things to do than meet with the Dalai Lama, Tibet's exiled spiritual leader.
"Although Western leaders are very busy with their work... they still take the time to see the Dalai Lama," Li Zhaoxing, spokesman for the National People's Congress (NPC), told a press conference.
"We can't understand this, and when Chinese people hear about this they are very angry," Li, a former foreign minister, said on the eve of the opening of the NPC's annual session.
The Buddhist monk, the spiritual leader of Tibet is seen by Beijing as a separatist bent on independence for his Himalayan homeland, fled in 1959 and lives in exile in India.
"Some people believe the sweet words of the Dalai, he says that he doesn't support Tibet independence, but more importantly we watch his actions," Li said.
On Taiwan, the spokesman said it was "totally unacceptable" for foreign governments to interfere in China's affairs by selling arms to the island -- a thinly veiled warning to Washington.
"At a time when the Chinese people across the Taiwan Strait are carrying out friendly exchanges as brothers, the advanced arms sales to Taiwan by a certain country is like handing a dagger to one person when he is hugging his brother," Li said.
Washington approved the sale of Black Hawk helicopters, Patriot missiles and and communications equipment for Taiwan's F-16 fleet, but did not include the submarines or new fighter jets.
US Deputy Secretary of State James Steinberg and top Obama aide Jeffrey Bader were in Beijing this week for fence-mending talks with Chinese officials. They were due to head to Japan later Thursday.