New loans issued by China's banks fell about 10 percent on year in the first half of 2011, the central bank said Tuesday, suggesting Beijing's efforts to stem a flood of liquidity are bearing fruit.
Chinese banks handed out 4.17 trillion yuan ($644 billion) from January to June -- down 449.7 billion yuan, or 9.8 percent, from the same period last year, the People's Bank of China said in a statement.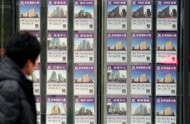 A man walks past the window of a real estate office advertising property for sale …
In June, banks issued 633.9 billion yuan in new loans, more than the 551.6 billion yuan loaned in May but less than the 739.6 billion yuan in April, according to central bank data.
Last month's new loans were also 20.7 billion yuan more than a year ago, the statement said.
Policymakers have been pulling on a variety of levers to rein in bank lending on fears soaring property prices and inflation -- which hit a three year high of 6.4 percent in June -- could trigger social unrest.
The central bank has hiked interest rates five times since October and increased the amount of money banks must keep in reserve numerous times in the past year.