China on Tuesday executed two former local government officials for taking tens of millions of dollars in bribes, the state-run Xinhua news agency reported.
Xu Maiyong and Jiang Renjie, who both worked in prosperous cities on China's thriving east coast, were put to death early Tuesday, Xinhua said, citing the Supreme People's Court.
Xu, 52, former vice mayor of Hangzhou, was sentenced to death in May, reportedly for taking bribes worth 198 million yuan ($30.6 million), embezzlement and abuse of power.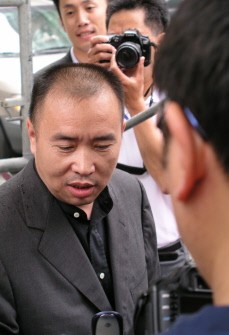 In this dated June 1, 2006 filed photo shows Chinese fugitive Lai Changxing speaking to reporters in Vancouver, Canada. China's most-wanted fugitive, Lai Changxing, took part in illegal gambling and loan sharking activities in 2009 in this west coast city, a Canadian police officer testified July 18, 2011
He was famous for his extravagant lifestyle -- Chinese media said investigators found gold bullion and expensive jewellery at his home, and the number of mistresses he kept was reportedly in double digits.
Jiang, 62, a former vice mayor of Suzhou, was sentenced to death in 2008 for taking more than 108 million yuan in bribes, Chinese media reported. Both men were Communist Party members, according to earlier media reports.
Corruption by officials is routinely named in opinion polls as a top source of public discontent.
In a speech earlier this month to mark the ruling Communist Party's 90th birthday, Chinese President Hu Jintao said the anti-graft fight was the key to "winning or losing public support and the life or death of the party".
wf/cc/mtp