China on Friday predicted another year of rapid expansion in 2010 but pledged to ensure the benefits of economic growth are shared more evenly, with concern mounting over a widening rich-poor divide.
In his annual "state of the nation" address to open parliament, Premier Wen Jiabao also pledged to tame inflation and curb rampant bank lending to forestall a risky bubble in the world's third-largest economy.
Wen said China would target eight percent economic growth in 2010, which he called a "crucial year" in the battle against the global slowdown.
"This year the main targets we have set for economic and social development are increasing GDP by approximately eight percent... (and) holding the rise in consumer prices to around three percent," Wen told lawmakers.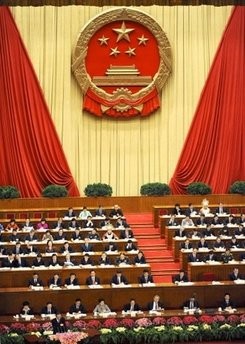 Chinese Premier Wen Jiabao delivers his speech to delegates at the opening session of the National People's Congress inside the Great Hall of the People in Beijing on March 5, 2010.
Eight percent growth is a figure authorities feel is the minimum necessary to avert widescale joblessness and social unrest in the world's most populous country. Despite the global crisis, the economy grew 8.7 percent last year. Related article: China to address needs of poor
With the world downturn exposing the volatility of foreign trade, the agenda for the National People's Congress will be topped by Beijing's efforts to retool the economy away from its long reliance on cheap exports.
"This is a crucial year for continuing to deal with the global financial crisis, maintaining steady and rapid economic development and accelerating the transformation of the pattern of economic development," Wen said.
He offered a fresh pledge to boost domestic consumption as a means to diversify the economy, and vowed to maintain a "proactive fiscal policy". China launched a 586-billion-dollar stimulus package in 2008. Related article: Need to rein in property prices: Wen
Wen said China would keep the value of the yuan "basically stable" in 2010, a stance sure to rile the country's key Western trading partners, which say the currency is kept low to boost exports.
China annually sees thousands of protests -- often violent -- by those who have missed out on the nation's economic boom, and Wen promised to expand the social security umbrella.
"We will not only make the pie of social wealth bigger by developing the economy, but also distribute it well on the basis of a rational income distribution system," he said.
Wen vowed to reform residency rules that discriminate against people who relocate from their hometowns -- a system known as "hukou" that effectively consigns China's 230 million migrant workers to second-class status. Related article: Corruption battle a 'high priority'
"We will carry out reform of the household registration system and relax requirements for household registration in towns and small and medium-sized cities," he said.
China expects to run up a budget deficit of 1.05 trillion yuan (154 billion dollars), up 10 percent from last year, Wen said, as it maintains the hefty stimulus plan and upgrades social security.
He also acknowledged government concern over a flood of lending that has caused inflation fears to spike, saying authorities would slash new bank loans by about a fifth in 2010 to 7.5 trillion yuan.
"We are emphasising sound development and we need to guide all sectors to focus on transforming the pattern of economic development and restructuring the economy," Wen said.
The NPC, with up to 3,000 members, has no real legislative power but meets to rubber-stamp the decisions of the Communist Party elite in an annual ritual aimed at putting a veneer of democracy on China's rigid political system.
On the eve of the congress opening, China unveiled the smallest increase in its defence budget for at least 10 years and vowed that its rapid military modernisation posed no threat to other countries. Related article: China to keep modernising the military
Wen also vowed to rein in soaring real estate prices and expand low-cost housing.
High housing prices have topped the list of public concerns in surveys, with violent clashes reported nationwide in recent months, sparked by forced evictions as officials and developers seek to cash in on the market.
As is customary during major political events in China, security has been tightened in the capital to prevent disruption. Related article: Plans to develop Xinjiang, Tibet
Extra police and more than 700,000 civilian volunteers have been deployed to keep public order, according to official media reports that dubbed the effort a "great moat" of security around Beijing.