Record-high international oil prices through the summer of 2006 had left China with little room to reform without risking fuelling inflation, sparking unrest, or denting growth, so some saw the recent falls in crude prices as the perfect opportunity.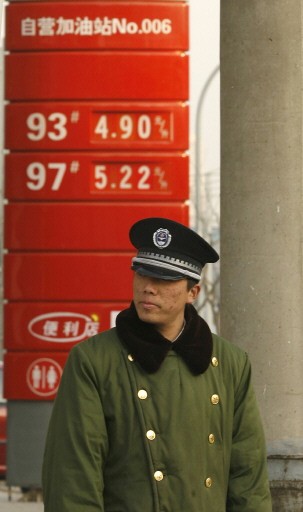 A security guard keeps watch in front of a price sign a petrol station in Beijing 14 January 2007.
But with the leadership fretting about rapidly growing dependence on foreign oil -- crude imports rose nearly 15 percent last year preliminary data showed last week -- and its energy-wasting industries, few had expected a reduction so soon.
"It's a huge surprise, but I think it is being done for political reasons and gets them out of a big hole," said David Hurd, a Beijing-based energy analyst at Deutsche Bank.
"They were very concerned that if crude markets went up again they weren't going to be able to raise prices on the rebound, because they never cut them ... I think it gives them breathing room to implement the new policy," he added.
The three major oil companies PetroChina , Sinopec Corp. and CNOOC Ltd. are expected to meet with the government later this month to discuss price reform, the China News Service added.
But, in the short term, the cut is likely to hit shares by tempering hopes that refining divisions will swing back to profit.
It also raises questions about China's commitment to energy saving targets, which it missed last year by a wide margin.
Officials acknowledge that more realistic prices are key to curbing demand for oil and other fuels, but say they worry about the impact on vulnerable groups like poor farmers.
However rural users' bills will remain unchanged, while many of the drivers and airline companies relieved by the change are perhaps more vocal than genuinely needy.
"I don't care about the increase or decrease of gasoline, because it won't affect my life quality," said 33 year-old Beijing housewife Zhou Jing. ($1=7.796 Yuan) (Additional reporting by Chen Aizhu, Emma Graham-Harrison and Ben Blanchard)