BEIJING, May 20, 2010 (AFP) - China on Thursday called for restraint after an investigation blamed North Korea for sinking a South Korean naval vessel in a deadly torpedo attack, and said it would study the findings of the probe.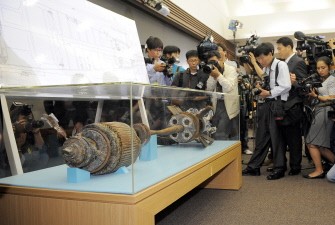 Cameramen take footage of torpedo parts salvaged from the Yellow Sea during a press conference at the Defense Ministry in Seoul on May 20, 2010. AFP photo
"All parties should stay calm and exercise restraint," foreign ministry spokesman Ma Zhaoxu told reporters.
"We stand for safeguarding regional peace and stability, promoting the six-party talks and the denuclearisation of the Korean peninsula," he said, in a reference to stalled negotiations on ending North Korea's nuclear programme.
He added that China would be making its own "assessment" of the international investigation's results, but said that did not mean Beijing would launch its own probe.
World powers denounced North Korea for the March 26 sinking of the South Korean warship that left 46 dead, with the United States, Japan and the United Nations all decrying the incident.