BEIJING, Sept 15, 2010 (AFP) - China called in Japan's envoy for a fresh dressing-down over the detention of a Chinese fishing captain as Washington weighed into the worst diplomatic spat between the regional rivals in years.
Assistant Foreign Minister Liu Zhenmin summoned ambassador Uichiro Niwa on Tuesday to complain again over Japan's continued "illegal detention" of the skipper, said a statement posted on the ministry's website.
Liu "demanded that Japan immediately release and send back the Chinese boat captain".
China has summoned Niwa five times over the September 7 collision between a Chinese fishing trawler and two Japanese coastguard vessels in disputed waters, an incident which has strained ties between the two Asian heavyweights.
The latest action appeared to indicate Beijing would keep up pressure for the unconditional release of boat captain Zhan Qixiong despite Japanese complaints over China's stance and a US call for dialogue.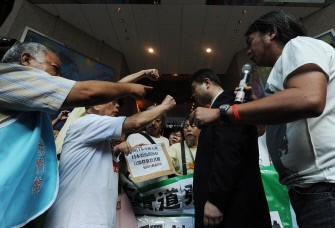 Protestors shout slogans demanding the release of a captain of a Chinese fishing boat to a representative of the Japanese consulate in Hong Kong on September 15, 2010. AFP
US State Department spokesman Philip Crowley said Tuesday that Washington hoped the dispute could "be resolved peacefully through dialogue between China and Japan."
Japan says Zhan intentionally rammed two Japanese coastguard patrol vessels during a high-seas chase near disputed islands in the East China Sea which are claimed by both countries as well as Taiwan.
Beijing has already postponed talks with Tokyo on joint energy exploration in the East China Sea and scrapped a trip to Japan by a senior lawmaker in protest.
Japan on Tuesday called the situation "extremely regrettable" and has complained to Beijing over the postponement of the energy talks.
According to Japanese daily the Asahi Shimbun, anti-Japanese protesters in China are planning to rally Saturday in Beijing over the incident.
The uninhabited islands -- called Senkaku in Japan and Diaoyu in China -- lie in an area with rich fishing grounds that is also believed to contain oil and gas deposits, and which has been a frequent focus of regional tensions.
China has warned of a potential "serious" impact on relations between the two countries.
Ties had been steadily improving since 2006, when leaders from both sides began to put behind decades of distrust stemming largely from Japan's wartime invasion of China. They already have a deep trade and economic relationship.
In the face of strong words over the incident by China, which has been steadily building up its armed forces including its naval power, Crowley also stressed the importance of the US-Japan alliance.
The alliance "is a cornerstone of security and stability across Asia," Crowley said in Washington, and benefits Japan and "other countries in the region, including China."
A Chinese foreign ministry spokeswoman on Tuesday hit out at Tokyo, saying it had "provoked this serious situation."
It was not immediately clear whether China's choice of the assistant foreign minister to make the latest comments was a signal Beijing hoped to cool down the dispute.
Liu is a relatively low-level official compared to those who have previously summoned Niwa. China typically signals its desire to escalate or downplay an issue through its choice of officials involved.
Japan this week released the boat and its crew. The men and the vessel have since returned to China. Zhan, however, could face up to three years in jail on charges of obstructing Japanese officers.
China's communist government often invokes humiliating territorial incursions by foreign powers in past centuries to stir nationalism-tinged support at home.
It thus reacts vociferously to any apparent sovereignty challenge, either on land or at sea.
Chinese anger over the incident is the worst to be directed at Japan since demonstrators staged sometimes violent protests in China in 2005 and 2006 over a range of grievances with Tokyo.
A group of protesters demonstrated outside the Japanese embassy in Beijing last week but no further actions have been reported after China stepped up security around the compound.