Venezuelan President Hugo Chavez on Monday said his leftist party had won most votes as well as seats in key legislative elections, and mocked opposition claims that he had lost significant support.
The bombastic leader dismissed "micro" opposition parties that prevented his party from maintaining major sway in the National Assembly and claim to have won slightly more of the vote.
"As always they're lying, manipulating," a defiant Chavez said, in his first news conference since the elections, wearing a tracksuit resembling the yellow, blue and red Venezuelan flag.
"There's no doubt that the revolutionary forces won a very important victory on Sunday," Chavez said, referring to the "socialist revolution" he has led in almost 12 years in power.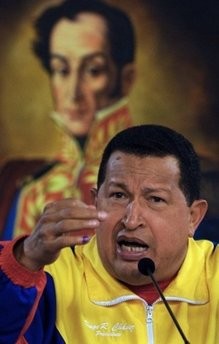 Venezuelan President Hugo Chavez speaks during a press conference in the presidential palace in Caracas on September 27, 2010
The electoral commission has only released figures for the seats won on Sunday, not votes. Controversial new changes to electoral rules mean Chavez's party can have many more seats than its vote share would imply.
Chavez claimed his United Socialist Party of Venezuela (PSUV) had won 5,422,040 votes while a Unity Table (MUD) broad coalition of opposition parties won 5,320,175 votes.
He said another 520,000 votes won by the leftist Homeland For Everyone (PPT), which broke off from his party, could not be included in the opposition tally, as his opponents have done.
According to the official vote count so far, Chavez's party won 95 seats, while the opposition won 63, and the PTT two.
The ruling PSUV had sought to win 110 seats, or two thirds of the congress, to be able to keep pushing through reforms and naming key posts in the oil-rich nation.
Chavez sarcastically challenged the opposition coalition to call a referendum on his rule, six years after he won a resounding victory in a similar vote.
"I challenge them, since they're in a majority," he said, referring to the opposition "partiditos (little parties)" or "micro parties."
Diverse opposition joined forces to take on Chavez, after spending the past five years on the sidelines following an ill-judged boycott of 2005 elections.
"We love democracy," Chavez said Monday, lauding the high turnout of more than 66 percent of some 17 million voters, in the 14th vote organized by his government.
The Latin American leftist champion denied that the vote had been centered on him, after leading a wave of red-colored rallies in the run-up to the vote.
The results were set to shake up an assembly Chavez is used to dominating, and the vote was seen as an early referendum on the populist leader, two years before presidential polls in which he is eyeing a third six-year term.
"It's been demonstrated that the country has an alternative, formed thanks to the convergence of very different people," said a triumphant Ramon Guillermo Aveledo, spokesman for the opposition coalition, early Monday.
The opposition now faces the challenge of working together and providing a credible candidate to take on Chavez.
In more than a decade of tumultuous rule, Chavez has nationalized public utilities, key industries and media, and launched health clinics and subsidized food programs for the poor. He has also increased pressure on opposition groups and dissidents.
The opposition's campaign focused on issues like Venezuela's murder rate, one of the highest in the world, and record inflation.
Chavez is strongly influenced by Communist Cuba and often slams US policy, though the United States remains the main buyer of Venezuelan oil.
The new congress will not take office until January.