CARACAS, July 3, 2011 (AFP) - Venezuelan Vice President Elias Jaua said Sunday that ailing President Hugo Chavez was not in danger of losing his life after surgery to remove a cancerous tumor, and hopes to recover in time for next year's presidential election.
The tumor has "never been life threatening," Jaua insisted to the El Universal newspaper, in a bid to contain the shockwaves felt here over the firebrand leader's surprise announcement from Cuba last week that he had the tumor removed.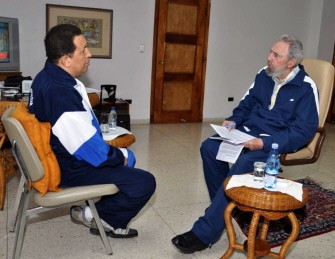 AFP - Handout picture released by the Cuban website www.cubadebate.cu on July 3, 2011, showing Venezuelan President Hugo Chavez Frias (L) with Cuban leader Fidel Castro during a meeting in Havana.
"Of course he will be president again in 2012," Jaua added, to the question of Chavez' candidacy in next year's polls. The shock news has sparked rumors about his ability to lead the country which the elected former paratrooper has led on a socialist national overhaul since 1999.
Caracas has not given details on what followup cancer treatment Chavez might get, or the type of cancer from which the 56-year-old is suffering.
Chavez announced in a video Thursday from Havana that a cancerous tumor had been removed from his body but that he was expecting a full recovery.
The news cut short a host of rumors about Chavez's health, fueled by his nearly month-long stay in the Cuban capital.
Chavez was rushed to hospital in Cuba on June 10 during a state visit and underwent surgery for what was initially described as a "pelvic abscess."
Earlier Sunday the Cuban government released photos of Chavez taking a short walk with his daughters Maria Gabriela and Rosa Virginia, and Venezuelan Foreign Minister Nicolas Maduro. Chavez was dressed in sports clothes and appeared much thinner than usual.
The four pictures appeared on the government-run website cubadebate.cu, which said the Venezuelan leader's walk took place on Friday and continued for about 10 minutes.
Later Sunday, Cuban revolutionary leader Fidel Castro expressed confidence that the Venezuelan president will achieve a "big victory" in his battle against cancer.
"I can state without hesitation that the results of the operation were impressive and that the patient had fought a decisive battle that will lead him and the Venezuelan people to a big victory," Castro wrote on cubadebate.cu.