BANGKOK, Nov 19, 2011 (AFP) - Thailand's premier declared central Bangkok safe from the kingdom's devastating floods Saturday, as the death toll passed 600 and President Barack Obama vowed the US will give whatever help it can.
Thailand is suffering its worst flooding in half a century, and 5.4 million people are still affected around the kingdom, but Prime Minister Yingluck Shinawatra said that inner areas of the capital were out of danger.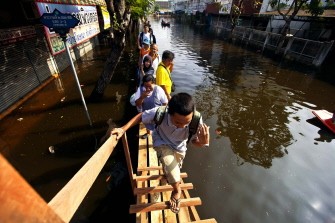 AFP - Local residents use a wooded footbridge to walk down a flooded street in Bangkok on November 19, 2011.
Yingluck met Obama on the sidelines of the East Asia Summit on the Indonesian island of Bali on Saturday -- her first face-to-face meeting with the US leader.
"It's certain that the inner zone of Bangkok will be safe from floods because the measures to hold floodwaters have been successful," she said in her weekly radio and television address.
The drainage of floodwaters in the western part of the capital was progressing slowly, she said, but she remained confident that a key road linking the city to the country's south would not be cut.
"Many feared that Rama II road may be submerged, but it's unlikely now and if it is inundated it will not be serious," she said.
Some 602 people have been killed in floods and two are still unaccounted for, the Department of Disaster Prevention and Mitigation said in an update on Saturday.
Many areas in the north and west of the capital are still under water and full or partial evacuation orders are in force in 24 of the city's 50 districts.
Bangkok governor Sukhumbhand Paribatra joined 1,000 volunteers clearing up a major road junction in the city's north on Saturday after the waters receded, and he vowed to clean up the whole city by the end of the year.
Obama congratulated Yingluck on her "inspirational" election victory in July and pledged US support in the floods crisis.
"We will extend any assistance we can," he said. "The US and Thailand are two of the oldest allies, with great friendship. We extend our heartfelt condolences to the victims of the flood."
Washington has promised more than $10 million to help Thailand recover from the disaster.
The meeting with Obama comes at a delicate time for Yingluck, the sister of the deeply divisive former PM Thaksin Shinawatra, who was ousted in a 2006 coup and lives abroad to avoid a two-year jail sentence for corruption.
Yingluck, 44, who had no experience of politics before her election, has faced criticism for her handling of the flood crisis and over reports that her government had drafted a royal pardon that could allow Thaksin to return.
Obama's warm words -- which went beyond the usual diplomatic niceties -- come after US Secretary of State Hillary Clinton's visit to Bangkok this week, where she said she was reassured of Yingluck's commitment to democracy in comments also seen as supportive of the government.