Bangkok's well-protected centre is only at risk of "minor" flooding, the Thai premier said Saturday, as the deluge closed in on the metropolis, inundating roads and threatening several subway stations.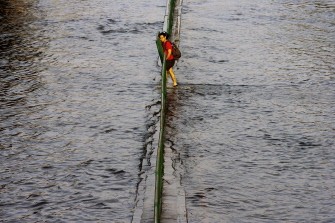 A man stands on a road divider as he crosses a main road on the edge of central Bangkok on November 6, 2011
Thailand's worst floods in decades have swamped at least 20 percent of the capital but Prime Minister Yingluck Shinawatra said flood barriers and drainage systems would keep the city's economic and political heartland mostly dry.
"If all measures are implemented as planned we can save the economic zone of Bangkok," she said in a weekly radio and television address to the nation.
"Even though there may be minor and brief flooding, we can pump and drain it out swiftly."
With the slowly advancing water now just a few kilometres (miles) away from business and tourists districts, authorities are seeking to push the floods through waterways in the east and west of the sprawling capital and out to sea.
Yingluck said a six-kilometre (four-mile) flood wall of huge sandbags had been erected in the north of Bangkok and more water pumps had been installed in other parts of the city of 12 million people.
Nationwide, the three-month old flood crisis, triggered by unusually heavy monsoon rains, has killed 446 people and damaged the homes and livelihoods of millions.
Hundreds of thousands of people have been told to evacuate a number of Bangkok districts but many have chosen to stay despite risks including electrocution, disease and lack of food and drinking water.
The floodwater arrived at the Lat Phrao intersection on the northern edge of the city centre on Friday, prompting the closure of a major shopping mall.
Also on Friday, a spokesman for the Bangkok metro said three subway stations -- Lat Phrao, Phahon Yothin and Chatuchak Park -- were at risk and might have to be shut down if the water rose to 40 centimetres (16 inches) outside.
Nearby Chatuchak weekend market -- a popular tourist attraction -- re-opened on Saturday but many traders stayed away after warnings from officials to be on alert for possible inundations.
Novice premier Yingluck, facing the first test of her fledgling leadership, told listeners she was feeling the strain.
"I admit that I am so tired but I will not be disheartened," she said. "The understanding from the people is enough for me to go on working."