Cambodia launched its new national airline, Cambodia Angkor Air, in a ceremony Monday, giving the southeast Asian country its first flag carrier since a previous effort folded in 2001.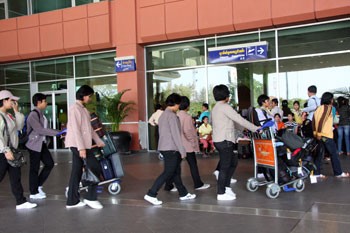 The inauguration of the new national carrier will now take place at Phnom Penh International Airport (above), the SSCA said. (Photo: The Phnom Penh Post)
It is hoped the airline, a joint venture between the government and Vietnam Airlines, will encourage tourism and promote Cambodia, Prime Minister Hun Sen said during the ceremony at Phnom Penh International Airport.
Hun Sen urged airline officials to compete hard with other carriers to "make Cambodia Angkor Air successful and ensure national revenue".
The last national carrier, Royal Air Cambodge, folded in 2001 after running up losses of 30 million dollars.
Deputy Prime Minister Sok An said Cambodia Angkor Air, which has capitalization of 100 million dollars, will officially begin flights on Tuesday, travelling to tourist hub Siem Reap and Vietnam's Ho Chi Minh City.
Sok An added that the airline was expected to boost his country's tourism sector, but "the government will be not responsible for any loss and debt".
After the opening ceremony Cambodian and Vietnamese officials flew to seaside resort Sihanoukville and Siem Reap, the gateway to the famed Angkor Wat temples.
Tourism is one of the only sources of foreign exchange for impoverished Cambodia, which is recovering from nearly three decades of conflict that ended in 1998.
The kingdom aims to lure three million tourists annually by 2010.
More than 20 foreign airlines, including Japan Airlines and Qatar Airways, currently operate direct flights to Cambodia.