PHNOM PENH, July 11, 2011 (AFP) - Cambodia launched its long-awaited national stock exchange on Monday, aimed at boosting economic growth -- but trading is not set to start for months because of a string of delays.
During the opening ceremony for the exchange, Economy and Finance Minister Keat Chhon said the event was "an important historical day for the Cambodian financial sector" and a new source of "national pride".

"It clearly reflects that Cambodia has been moving forward to another stage of financial sector development," he said, describing the Cambodia Stock Exchange (CSX) as "a new instrument" for saving and investment.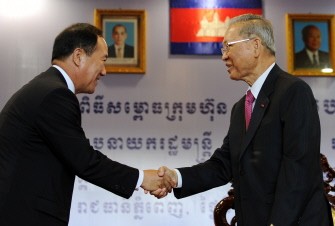 Kim Bongsoo, CEO and chairman of the Korea Exchange (L) shakes hands with Keat Chhon (R) the Cambodian Minister of the Economy and Finance during the inauguration ceremony of the Cambodian Securities Exchange (CSX) in Phnom Penh on July 11, 2011.
Full operation will start before the end of the year, Keat Chhon said.
Cambodia signed an agreement to set up the stock market -- a joint venture between the government and South Korea's stock exchange -- in 2008 and planned to open it in 2009.
However, the launch date was pushed back twice due to the global downturn and regulatory hurdles.
The Korea Exchange, which has a 45 percent stake in the CSX, has a similar interest in the recently-opened bourse of Laos.
Keat Chhon said three state-owned enterprises had been instructed by the government to work on listing their stocks for trading.
Last November, 15 securities firms were granted licences as underwriters, brokers, investment advisers and dealers to operate on the bourse.
Stock quotations for trading must be in local currency -- the riel -- only, the Securities and Exchange Commission of Cambodia (SECC) said in March.
But for the first three years, both buyers and sellers can arrange to settle payments in US dollars at their agreement, according to officials.
Cambodia has a long-term goal to reduce reliance on the greenback, which according to the Asian Development Bank makes up more than 90 percent of all currency in circulation in the country.
While still among one of the world's poorest countries, Cambodia has emerged from decades of conflict as one of the region's rising economies.
Cambodia remains a largely cash-only economy and a high degree of mistrust means many people hoard their money at home instead of using banks.