Leaders of Cambodia, Laos and Vietnam have agreed to make enhancing the connectivity of the three economies an important task in the time ahead, Vietnamese Prime Minister Nguyen Xuan Phuc said after the 9th Summit of Cambodia-Laos-Vietnam (CLV) Development Triangle Area (CLV 9), source from Vietnamnews reported yesterday in Siemriep.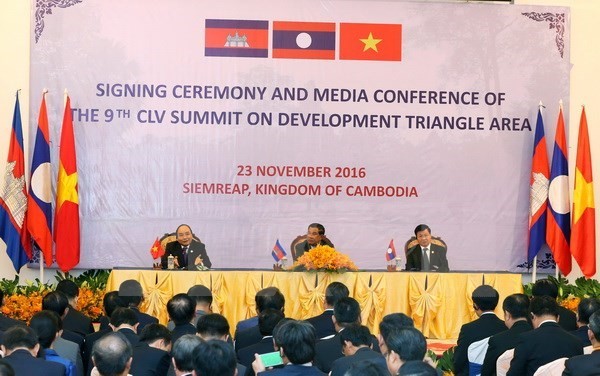 The three Prime Ministers at the joint press conference (Source: VNA)
Speaking at a joint press conference after the summit that he co-chaired with Cambodian Prime Minister Hun Sen and Lao Prime Minister Thongloun Sisoulith, PM Nguyen Xuan Phuc said the three countries shared the viewpoint that they will continue to coordinate closely and make use of every opportunity and every resource to serve development, including the help from partners such as Japan and the ADB, among others.
He stressed that the private sector will be encouraged to participate in the CLV cooperation mechanism.
According to Cambodia PM Hun Sen, the summit appreciated the outcomes of CLV cooperation in the fields of trade, investment, tourism, agriculture and people-to-people exchange.
He said the CLV development triangle has transformed from an underdeveloped area into a region with good economic development prospect and local living conditions have improved remarkable.
Hun Sen cited as example the surge in Cambodia's per capita income, which rose from 294 USD a year when the country jointed the CLV development triangle to 1,300 USD now.
The PM said the three sides said they will provide more incentives and favourable conditions for trade and investment in the triangle area. The countries will complete the tourism development plan for the region and a plan of actions to connect the three economies not only in transport but also in infrastructure, energy and tourism.
Lao PM Thongloun Sisoulith appreciated the joint statement and the outcomes of the event, affirming that the three countries will work closely to realise the reached agreements.
Leaders of the three countries also reach consensus on the use of the telecommunication network to establish links allowing leaders and agencies of the three countries to regularly discuss and tackle arising issues in a timely manner.
They also agreed on a proposal to Vietnam to set up a vocational training centre to serve the development triangle area.
In the spirit of the reached agreements, the three countries will continue their close coordination in economy and investment, while working together in ensuring political security, peace and border stability, laying firm foundation for their cooperation in culture, education and particularly tourism.
The three leaders concurred to affiliate in fulfilling the UN Millennium Goals to 2030, with special attention paid to the protection of the environment and the management and use of water resources and other natural resources.
PM Phuc said Vietnam's telecommunication service provider Viettel can take the task of establishing links for online meetings among the three countries' leaders and agencies.
Viettel will also support the building of e-government in the three countries, and apply charges for Viettel users in the three countries at similar price for domestic calls, thus helping facilitate investment activities and serve tourists and people in Vietnam, Laos and Cambodia