JERUSALEM, Oct 26, 2009 (AFP) - Israeli police reopened the flashpoint Al-Aqsa mosque compound to Muslim worshippers and tourists on Monday, a day after the latest clashes erupted in and around Jerusalem's flashpoint site.
The streets of the Old City remained calm after the latest violence to shake the site, known as Al-Haram Al-Sharif (the Noble Sanctuary) to Muslims and as Temple Mount to Jews.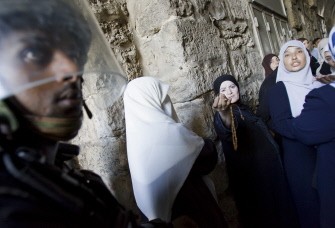 Palestinian Muslim women stand next to an Israeli policeman during clashes near the Al-Aqsa mosque compound in Jerusalem's old city on October 25, 2009 (AFP photo)
"There are still a number of police patrolling in and around the Old City," Israeli police spokesman Micky Rosenfeld said. "But the Temple Mount will be open to both visitors and Muslim worshippers."
The site of the compound is the holiest place in Judaism and third-holiest to Muslims, after the Saudi cities of Mecca and Medina.
Dozens of Israeli police and Palestinians were wounded when clashes erupted at the compound on Sunday after Muslim leaders called on their followers to defend the site, accusing Jewish extremists of plotting to enter.
Police twice entered the compound and clashed with stone-throwing Palestinian youths in the narrow streets of the Old City, Jerusalem's main tourist attraction. At least 18 Palestinians were detained during the fighting.
Sunday's violence was the latest to rock the holy site, where perceived changes in the status quo have often sparked deadly clashes.