ROME, July 24, 2009 (AFP) - A call girl at the centre of allegations concerning Italian Prime Minister Silvio Berlusconi's sex life on Friday denied having been paid by journalists to sully his reputation.
Patrizia D'Addario, 42, who has claimed she spent a night with Berlusconi and filmed his bedroom with her mobile phone, has threatened legal action against her detractors.
"These last days, the press had carried public declarations and reconstructions on the part of journalists that slander me," she said, in a statement issued by her lawyer Maria Pia Vigilante.
"I will reply to each one of them with legal actions," she added.
"I understand that the foreign minister, Franco Frattini says that several call girls have been paid by journalists to 'make false accusations against Silvio Berlusconi'," she continued.
If Frattini was referring to her, then she was issuing a firm denial, she said. The minister should either produce the evidence or keep quiet, she addded.
On Thursday, in comments to the BBC, Frattini accused D'Addario of having made "absolutely false" statements regarding Berlusconi and said she had been paid by journalists to do so, ANSA news agency reported.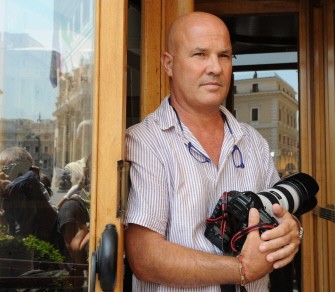 Italian photographer Antonello Zappadu poses before a press conference to present the book Berlusconi's Nightmare in Rome on July 22, 2009. Zappadu took pictures in May 2008 of well known Italian celebrities and politicians attending parties with Italian Prime Minister Silvio Berlusconi in a private Villa in Sardina. (AFP photo)
But D'Addario has said she recorded all her conversations with her clients and that those recordings had now been handed over to investigators in the southern city of Bari.
D'Addario is already at the centre of a corruption investigation there into entrepreneur Gianpaolo Tarantini, who allegedly arranged the tryst with Berlusconi.
The left-wing weekly L'Expresso has put extracts of what it purported to be recordings of conversations between D'Addario and Berlusconi on to its website.
Berlusconi, who conceded on Wednesday that he was "not a saint," is already facing a very public divorce over his unexplained relationship with an 18-year-old aspiring model who calls him "Daddy."
But he has also insisted that nothing untoward could happen at the social occasions he hosted at any of his homes "because I am a person of good taste, culture and elegance."