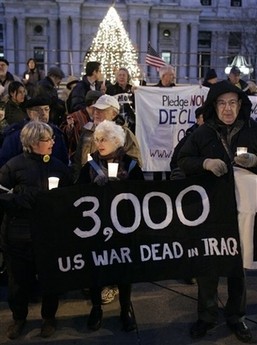 Iraq war protesters gather during a peace vigil outside Philadelphia City Hall on Tuesday, Jan. 2, 2007 (AFP Photo)
President George W. Bush, in a column to be published Wednesday, said he was ready to work with Democrats on the eve of their takeover of Congress but warned that partisanship could lead to a "stalemate."
Bush wrote in the Wall Street Journal that winning the war in Iraq and making his tax cuts permanent were the top priorities, two issues in which he has butted heads with Democrats.
"Together, we have a chance to serve the American people by solving the complex problems that many don't expect us to tackle, let alone solve, in the partisan environment of today's Washington," Bush wrote.
"To do that, however, we can't play politics as usual," he said in the column appearing one day before lawmakers take their oaths of office. "Democrats will control the House and Senate, and therefore we share the responsibility for what we achieve."
Bush, whose Republican party's electoral defeat on November 7 was widely attributed to the unpopularity of the Iraq war, said he would soon lay out a new strategy to help the Iraqi government gain full control over its affairs.
"Leaders in both parties understand the stakes in this struggle. We now have the opportunity to build a bipartisan consensus to fight and win the war," he wrote.
While reaching out to Democrats, Bush also warned that partisan bickering could lead to political deadlock in the final two years of his presidency.
"If the Congress chooses to pass bills that are simply political statements, they will have chosen stalemate," Bush wrote. "If a different approach is taken, the next two years can be fruitful ones for our nation."
"We can show the American people that Republicans and Democrats can come together to find ways to help make America a more secure, prosperous and hopeful society," he said.
"And we will show our enemies that the open debate they believe is a fatal weakness is the great strength that has allowed democracies to flourish and succeed."