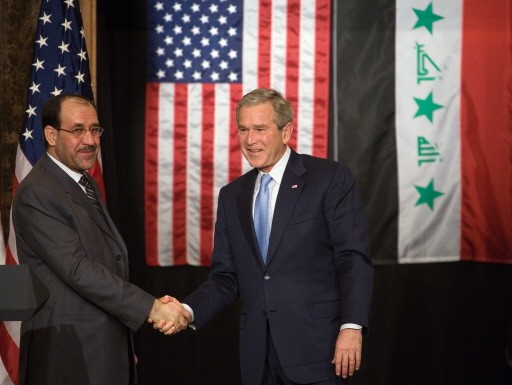 US President George W. Bush (R) and Iraqi Prime Minister Nouri Maliki shake hands after a joint press conference (AFP Photo)
President Bush pledged Thursday that U.S. troops will remain in Iraq to strengthen the authority of embattled Prime Minister Nouri al-Maliki and said the two agreed to speed a turnover of security responsibility to Iraqi forces.
"One of his frustrations with me is that he believes that we've been slow about giving him the tools necessary to protect the Iraqi people," Bush said. "Today we had a meeting that will accelerate the capacity for the prime minister to do the hard work necessary to help stop this violence."
The two also agreed in high-stakes talks here Thursday that Iraq should not be partitioned into separate, semiautonomous zones.
While Bush continued to reject drawing Iran into helping Iraq in its struggle for peace, Al-Maliki left the door open for countries like Iran and Syria to play a part.
"We are ready to cooperate with everybody who believes that the need to cooperate with the national unity government, especially our neighbors," al-Maliki said.
He said that "Iraq is for Iraqis and its borders will be sound."
Bush and al-Maliki had been set to start meeting on Wednesday, but that opening session was canceled following disclosure of U.S. doubts about the Iraqi leader's capabilities and a Baghdad protest of his attendance.
But any tension over that stunning turn of events was not apparent when the leaders appeared together before reporters. "He's a strong leader who wants a free and democratic Iraq to succeed," Bush said.
The president acknowledged the pressure at home for the beginning of U.S. troop withdrawals but he said, "We'll be in Iraq until the job is complete, at the request of a sovereign government elected by the people."
He said the United States — which now has about 140,000 troops in Iraq _will stay "to get the job done so long as the government wants us there."
Bush said he wanted to begin troop withdrawals "as soon as possible. But I'm a realist because I understand how tough it is inside of Iraq."
The abrupt cancellation of Wednesday's opening session was an almost unheard-of development in the high-level diplomatic circles of a U.S. president, a king and a prime minister. Confusion — and conflicting explanations — ensued .
Bush had been scheduled to participate in a three-way session with al-Maliki and Jordan's King Abdullah II, rearranging his overseas itinerary to be in Amman for both days for talks aimed at reducing the spiral of violence in Iraq.
The last-minute scrub of those talks was not announced until Bush was inside Raghadan Palace and had posed for photographs alone with the king.