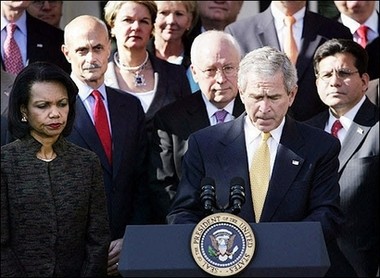 US President George W. Bush (R) speaks in the Rose Garden of the White House after meeting with his cabinet (AFP Photo)
President George W. Bush promised to work with Democrats after they captured Congress, even as a carefully staged show of post-election bipartisanship showed signs of fraying.
Bush's Republican Party meanwhile admitted its complete defeat, conceding the decisive Senate seat in Virginia, leaving Democrats in command of both chambers of Congress following Tuesday's vote.
In a sign of the huge shift in US politics, Bush lunched at the White House with Nancy Pelosi, the 66-year-old Democrat set to become the first woman speaker of the House of Representatives.
"The elections are now behind us, and the congresswoman's party won, but the challenges still remain," said Bush, who also hosted Democratic minority whip Steny Hoyer.
"We're going to work together to address those challenges in a constructive way, we won't agree on every issue. But we do agree that we love America equally, that we're concerned about the future of this country."
Bush's conciliatory tone contrasted with his attacks during the campaign. On October 30, he said : "the Democrat approach in Iraq comes down to this: The terrorists win and America loses."
But Bush was not the only one moderating his rhetoric, Pelosi earned the anger of Republicans before the election by declaring Bush was "incompetent."
Asked what was on the menu for lunch, presidential counselor Dan Bartlett told CBS Bush may opt for the American version of humble pie, quipping, "well, for the president, it's probably a little bit of crow."
A day after making the first move in his new political gambit by dispensing with Defense Secretary Donald Rumsfeld, Bush said he was ready to engage Democrats on Iraq.
"I'm open to any idea or suggestion that will help us achieve our goals of defeating the terrorists and ensuring that Iraq's democratic government succeeds," Bush said.
Pelosi is on record as favouring a phased withdrawal of US troops from Iraq and other Democrats have backed a quick exit or a partition of the country.
As Bush set out to salvage the last two years of his presidency, Democrats celebrated a complete rout as Republican Senator George Allen conceded defeat in Virginia to challenger Jim Webb, handing the Senate to Democrats.
And Senator Chuck Schumer, who masterminded the campaign, warned that though Democrats wanted to work with the president, they wouldn't be browbeaten.
"Will we stand up to the president when we think he is wrong? Yes," said Schumer.
"But our real mission is to work together and help the American family and make a better America," he added.
The victory in the final race of 33 Senate seats up for grabs handed Democrats control of both houses of Congress for the first time in 12 years.
Combined with two independent senators likely to caucus with Democrats, Democrats have a 51-49 margin over Republicans.
But in a sign the new spirit of cooperation may be only skin deep, the White House resubmitted the nomination of hawkish United Nations ambassador John Bolton to the Senate, sparking an immediate row with Democrats.
Bolton had previously been blocked by Democrats and a rebel Republican in 2005 and granted a recess appointment by Bush.
The White House's move appeared to be a bid to get Bolton approved in a "lame duck" session of Congress still controlled by Republicans which opens next week.
Democratic Senator Chris Dodd reacted angrily, accusing the White House of trying to "jam this nomination through during a lame duck session."
Eyes in Washington were also turning to a bipartisan commission probing new approaches to the occupation of Iraq, after Bush admitted voters were fed up with the situation in a country where 2,800 US troops and tens of thousands of civilians have died.
The group co-led by former secretary of state James Baker, due to report within months, is seen by many observers as a chance for both parties to coalesce around a common strategy.
White House spokesman Tony Snow said Thursday Bush would not necessarily adopt the group's recommendations.
"To the extent that the Iraq Study Group has fresh ideas and analysis that we think is going to be interesting and helpful, we're going to be grateful for it," Snow said.
"But the idea that somebody says, 'Ah-ha, here's the document, let us follow' -- no, it doesn't work that way."
The approach towards Iraq of Bush's nominee to succeed Rumsfeld, Robert Gates, a former CIA chief seen as more moderate than his combative predecessor, is also being closely watched.
Rumsfeld, still in office until his successor is confirmed by the Senate, admitted the occupation in Iraq had featured mistakes.
"I will say this: It is very clear that the major combat operations were an enormous success. It is clear that in phase two of this, it has not gone well enough or fast enough," he said in a speech in Kansas.