US President George W Bush paid a surprise visit to Iraq on Monday, just days before a crucial report to Congress on Washington's strategy in the war-torn nation.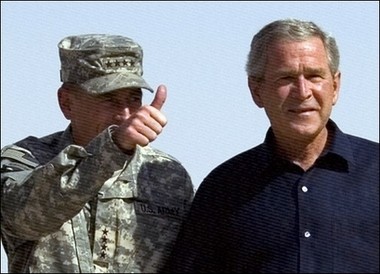 US President George W. Bush stands beside General David Petraeus at Al-Asad air base in Iraq, Sep. 3 (AFP Photo)





The trip coincided with the withdrawal of British troops from their last base in the southern Iraqi city of Basra amid tensions between Washington and its top ally Britain over their policy in Iraq.
"This is the last big gathering of the president's military advisors and the Iraqi leadership before the president decides on the way forward," said Geoff Morrell, a Pentagon spokesman.
The White House is to make a formal report to Congress on September 15 aimed at convincing US lawmakers to continue funding the Iraq war, four and a half bloody years since the US-led invasion of 2003.
Bush, whose itinerary was not immediately known, arrived at the desert air base of Al-Asad in the restive western province of Anbar along with Secretary of State Condoleezza Rice, national security adviser Stephen Hadley, and other senior aides.
Waiting for him were US Defence Secretary Robert Gates, General Peter Pace, the chairman of the Joint Chiefs of Staff, Admiral William Fallon, the commander of US forces in the Middle East, and General David Petraeus, the top US commander in Iraq.
It was Bush's first visit to Iraq since June 2006, which followed the killing by US forces of the then leader of Al-Qaeda in Iraq, Abu Musab al-Zarqawi.
Opposition Democrats who control the House of Representatives and Senate have been pushing for months to force a deadline for US troops to leave Iraq.
But Bush and his generals have argued for time to make the so-called troop "surge" work after the US military deployed tens of thousands of extra troops in February to try to end the violence in Iraq.
Bush's visit came just hours after British forces slipped out of their last base in the Iraqi oil port of Basra under cover of darkness and handed over control of the base to their Iraqi comrades, leaving behind a city in the grip of a brutal militia turf war.
AFP reported that residents of Basra cheered the withdrawal.
"We are happy to be rid of the British. They were harassing us in the streets and raided our houses and arrested our sons. We now want to see them out of greater Basra," said army officer Sadoun Hami.