US President George W. Bush on Sunday faced a new clash with congressional Democrats over the unpopular war in Iraq as Senate Democrats reportedly reached a deal that would allow soldiers to spend more time at home.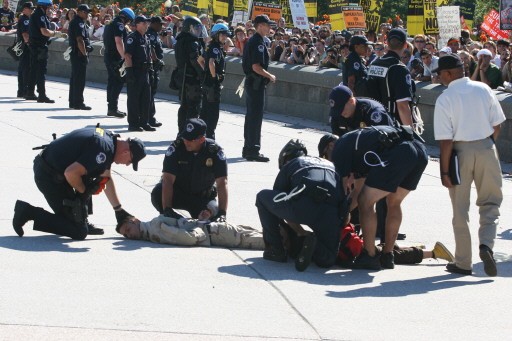 Anti-war protesters are arrested at the US Capitol during a march demanding an end to the war in Iraq, the return of US troops and the impeachment of US President George W. Bush in Washington, DC, Sept. 15, 2007
"If we were to be driven out of Iraq, extremists of all strains would be emboldened," Bush said Saturday in his weekly radio address. "Al-Qaeda could find new recruits and new sanctuaries," he added, naming the extremist network that he blames, along with Iran, for fueling violence in Iraq.
"By contrast, a free Iraq will deny Al-Qaeda a safe haven. It will counter the destructive ambitions of Iran. And it will serve as a partner in the fight against terrorism," he said.
Meanwhile in Washington, thousands of protestors marched from the White House to Congress Saturday, waving placards demanding an end to the war in Iraq, the return of US troops, and the impeachment of Bush.
Organizers said 197 people, including dozens of veterans and activists, were arrested as they crossed police lines. Police put the number of arrests at 189.
Authorities also used pepper spray to disperse the crowd, according to the Act Now to Stop War & End Racism (ANSWER) coalition, the group that organized the march.
The president announced in a speech on Thursday that the size of the US force in Iraq would decrease by about 21,500 combat troops by mid-2008, with the first 5,700 soldiers leaving Iraq in December. Most of those soldiers had been scheduled to rotate back to the United States at that time.
Currently 169,000 US troops are in Iraq, up from 130,000 before Bush announced a "surge" of US forces in January.
Defense Secretary Robert Gates, keenly aware that the all-volunteer US military has been stretched thin with repeated deployments, said Friday he hoped US forces in Iraq can be brought down to about 100,000 by the time the next president takes office in January 2009.
The figure could decrease faster if Senate Democrats have their way: a proposal by Democratic Senator Jim Webb of Virginia -- a Vietnam war veteran -- is under discussion that would require US troops to spend as much time at home as on their most recent tours overseas before being re-deployed.
The proposal is close to winning enough Republican support for approval, The New York Times reported Saturday.
If approved, the measure would force US military commanders to withdraw troops on a much faster timeline than the one the top US commander in Iraq, General David Petraeus, presented to Congress on September 10.
Gates called the proposal "well-intentioned," but said it might require extending tours of units already in Iraq, and calling up additional National Guard and Reserve troops.
At the Washington protest, which organizers said brought together nearly 100,000 people, one woman carried a picture of her 25-year-old daughter who is on her second tour of duty in Iraq. "I had a nervous breakdown when they told me her tour was being extended to 15 months," she told AFP.
In the US political system the president is the top military commander and sets foreign policy, but the US Congress approves the budget and can set conditions for funding.
In order to be approved, Webb's measure must gain support from at least some of Bush's Republicans, because opposition Democrats have a razor-thin majority in the Senate.
Some 3,773 US soldiers have been killed in Iraq and some 27,850 wounded in action since the US-led 2003 invasion.