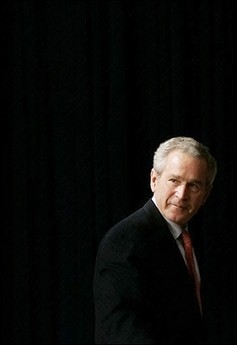 US President George W. Bush, pictured in 2006, set to order 21,500 more US troops into Iraq (AFP Photo)
President Bush said Wednesday he will send 21,500 additional U.S. troops to Iraq to quell its near-anarchy and for the first time acknowledged he had erred by failing to order a military buildup last year. "Where mistakes have been made, the responsibility rests with me," Bush said.
The military increase puts Bush on a collision course with the new Democratic Congress and pushes the American presence in Iraq toward its highest level. It also runs counter to widespread anti-war passions among Americans and the advice of some top generals.
In a prime-time address to the nation, Bush pushed back against the Democrats' calls to end the unpopular war. He said that "to step back now would force a collapse of the Iraqi government, tear that country apart and result in mass killings on an unimaginable scale."
"If we increase our support at this crucial moment and help the Iraqis break the current cycle of violence, we can hasten the day our troops begin coming home," he said.
In addition to extra U.S. forces, the plan envisions Iraq committing 10,000 to 12,000 more troops to secure Baghdad's neighborhoods.
Even before Bush's address, the new Democratic leaders of Congress renewed their opposition to a buildup. "This is the third time we are going down this path. Two times this has not worked," House Speaker Nancy Pelosi (news, bio, voting record), D-Calif., said after meeting with the president. "Why are they doing this now? That question remains."
Senate and House Democrats are arranging votes urging the president not to send more troops. While lacking the force of law, the measures would compel Republicans to go on record as either bucking the president or supporting an escalation.
Bush said that under his plan, U.S. forces will work alongside Iraqi units and be embedded in their formations.
Responding to concerns from U.S. commanders, Bush said American troops will have a clearly defined mission to help Iraqis clear and secure neighborhoods, assist in the protection of the local population and "to help ensure that the Iraqi forces left behind are capable of providing the security that Baghdad needs."
Resisting calls for troop reductions, Bush said that "failure in Iraq would be a disaster for the United States. A democratic Iraq will not be perfect. But it will be a country that fights terrorists instead of harboring them."
But Bush warned that the strategy would, in a short term he did not define, bring more violence rather than less.
"Even if our new strategy works exactly as planned, deadly acts of violence will continue, and we must expect more Iraqi and American casualties," he said. "The question is whether our new strategy will bring us closer to success. I believe that it will."
Bush's warning was echoed by Sen. John McCain (news, bio, voting record), R-Ariz., a leading proponent of a troop increase. "Is it going to be a strain on the military? Absolutely. Casualties are going to go up," the senator said.
Bush said he considered calls from Democrats and some Republicans to pull back American forces. He concluded it would rip Iraq apart.