LONDON, United Kingdom, July 8, 2011 (AFP) - Andy Coulson, the former media chief of British Prime Minister David Cameron, arrived at a police station Friday for questioning over the News of the World scandal, The Times newspaper reported.
Coulson -- who previously edited the tabloid which is now to shut following an uproar over phone hacking -- attended London's West End Central police station, according to the website of The Times, which is also owned by Rupert Murdoch.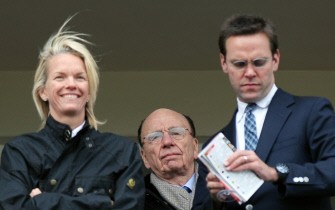 AFP - A file picture taken on March 18, 2010 shows Rupert Murdoch (C) and his children James (R) and Elisabeth (L) at the Cheltenham Racing Festival.
There was no immediate confirmation from London's Metropolitan Police.
A Scotland yard spokesman said it did not comment on such matters until a person had been arrested.
The Guardian newspaper reported on Thursday that Coulson would be arrested and then bailed over the hacking scandal.
Coulson resigned from the News of the World in 2007 after its correspondent and a private investigator were jailed for conspiracy to access mobile phone messages involving Princes William and Harry.
He denied having any knowledge of the hacking.
He signed up as Cameron's communications director later in 2007, with the state-school educated former newspaperman helping the Conservatives win most seats in elections in May 2010.
But police interviewed Coulson as a witness last year after a journalist said Coulson had encouraged him to hack voicemails and Coulson quit in January amid renewed pressure over the scandal.