LONDON, July 8, 2011 (AFP) - Police have arrested David Cameron's ex-media chief and a former royal reporter over Britain's tabloid phone hacking row as the prime minister promised urgent inquiries into the spiralling scandal.
Cameron looked rattled during the toughest press conference of his year in power Friday, but he defended his decision to hire Andy Coulson, a former editor of Rupert Murdoch's News of the World tabloid, which is to shut this weekend.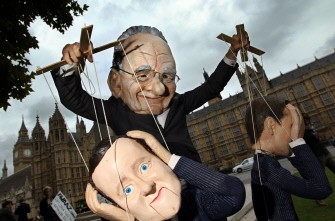 AFP - A demonstrator dressed in a Rupert Murdoch mask controls puppets of British Prime Minister David Cameron (Foreground) and British Minister for Culture, Media and Sport Jeremy Hunt, (R) during a protest against Murdoch's proposed takeover of BSkyB, in London, on July 8, 2011
He admitted the scandal went to the heart of the British establishment, saying: "The truth is, we have all been in this together -- the press, politicians and leaders of all parties, and yes, that includes me."
Cameron said he gave Coulson a "second chance" after he quit the News of the World in 2007 when two people were jailed over voicemail hacking.
Coulson then quit as his communications chief in January, saying the continuing claims were distracting him from his job.
"The decision to hire him was mine and mine alone, and I take full responsibility for it," Cameron said, adding however that Coulson "became a friend and is a friend".
Murdoch surprised observers on Thursday when he killed off the 168-year-old News of the World, Britain's biggest-selling Sunday paper, amid claims that it hacked the voicemails of a murdered girl and the families of dead soldiers.
Cameron announced a judge-led public inquiry into the furore, as well as a second inquiry into the way in which the British press is regulated.
"These are the questions that need answering: Why did the first police investigation fail so abysmally? What exactly was going on at the News of the World? And what was going on at other newspapers?" he said.
As he was speaking, police arrested Coulson after he voluntarily appeared at a south London police station "in connection with allegations of corruption and phone hacking".
The corruption allegations refer to alleged improper payments to police officers by the News of the World when Coulson edited it from 2003 to 2007.
After nine hours of questioning, the 43-year-old was released on bail until October, telling reporters as he left: "There is an awful lot I would like to say, but I can't at this time."
Police also arrested Clive Goodman, the tabloid's former royal editor, who was one of two men jailed in 2007 for hacking the voicemails of Princes William and Harry. Held on allegations of corruption, he was later bailed until October.
A third man, aged 63, was arrested on corruption allegations late Friday.
Earlier in the day, police raided the offices of another weekly tabloid, the Daily Star Sunday, where Goodman had worked as a freelance reporter over the past year. The paper said they requested some of his computer material.
The shock closure of the News of the World was seen as Murdoch's attempt to quell the scandal and save the bid by his News Corp. for control of the satellite broadcaster BSkyB, on which the government is due to decide soon.
After shares in BSkyB plunged nearly eight percent on Friday, there were reports that the media tycoon himself would fly into London this weekend.
In a new revelation Saturday, The Guardian claimed that police were investigating whether an executive deleted "millions of emails" from an internal archive. A News International spokeswoman said: "This assertion is rubbish."
The closure was also seen as a way of protecting Rebekah Brooks, the head of Murdoch's British newspaper wing, News International, who was editor of the News of the World for three years before Coulson.
She reportedly offered her resignation but was rebuffed. Cameron told reporters: "In this situation, I would have taken it."
However, in a meeting with angry staff on Friday, which was secretly recorded, Brooks said her resignation would not have ended the scandal, noting that advertisers had pulled out in their droves from next weekend's edition.
She insisted she knew nothing of the hacking, saying: "If being betrayed is a resignation issue, well maybe I've just read it wrong, but I think I'm much more useful leading this company through this."
The last edition of the unashamedly sensationalist tabloid will be on Sunday, ending a long history of publishing sex scandals but also hard-hitting investigations including into recent Pakistani cricket match-fixing claims.
Brooks said no decision yet had been taken on replacing the paper, reportedly with a Sunday edition of its stablemate, the daily Sun, Britain's biggest selling newspaper.