LONDON, July 8, 2011 (AFP) - British Prime Minister David Cameron said Friday he took "full responsibility" for hiring former media chief Andy Coulson, who now reportedly faces arrest over the News of the World phone hacking scandal.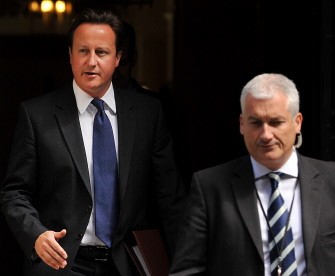 AFP file - British PM David Cameron (L) leaves 10 Downing street in central London on July 6, 2011
"The decision to hire him was mine and mine alone, and I take full responsibility for it," Cameron told a press conference about Coulson, a former editor of the tabloid who quit Downing Street in January.

Cameron also said he would have accepted the resignation of Rebekah Brooks, the embattled head of Murdoch's British newspaper wing, over the allegations that the tabloid hacked the voicemails of murder victims and celebrities.
"It's right and proper to establish a full, public inquiry to get to the bottom of what happened. A judge needs to be in charge so there's no question that it is totally independent and things are done properly," Cameron told reporters in Downing Street.
"These are the questions that need answering: Why did the first police investigation fail so abysmally? What exactly was going on at the News of the World? And what was going on at other newspapers?"
He said a second inquiry, into the way in which the press in Britain is regulated in the future, could begin straight away.