LONDON, Aug 9, 2011 (AFP) - Riots swept across London and at least three other British cities, as Prime Minister David Cameron returned early from holiday Tuesday to tackle one of the worst outbreaks of violence for decades.
In a third night of violence in the capital, groups of hooded and masked youths ransacked shops and burned cars and buildings, often unchallenged by an overstretched police force.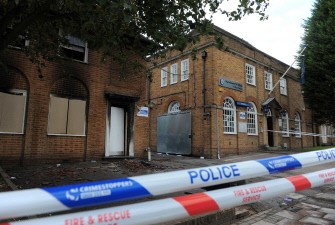 AFP - A damaged unmanned police station is pictured in Handsworth, Birmingham, central England, on August 9, 2011, following a third night of violence on the streets of London and other parts of Britain
Rioters targeted the wealthy districts of Notting Hill and Clapham, inner-city Peckham and Hackney, and suburban Croydon and Ealing.
For the first time since the unrest broke out in Tottenham, north London, on Saturday night following the killing of a local man in a police shooting, the rioting spread to the English cities of Liverpool, Birmingham and Bristol.
Cameron cut short his holiday in Italy and returned to Britain overnight to chair a meeting Tuesday of the government's emergency committee (Cobra) about the unrest, which Home Secretary Theresa May condemned as "sheer criminality".
"The disorder we've seen is at a level that hasn't been seen for some years in this country. We do need to bring an end to it and we need to bring an end to it soon," May told Sky News television.
She said more than 450 people had been arrested in London over the three nights of violence, and Scotland Yard said cells in police stations in the capital were now full, with prisoners being transferred to neighbouring forces.
About 6,000 police were deployed in London on Monday night, but they were unable to contain the violence as it broke out right across the capital. One officer, Paul Deller, admitted Tuesday: "We simply ran out of units to send."
In some areas, rioters took control of the streets with little sign of a police presence -- in Clapham, a mainly affluent area of southwest London, hundreds raided a department store for at least two hours, witnesses said.
Meanwhile in Hackney, a deprived area of east London just a few miles (kilometres) from where the Olympic Games will take place next year, riot police faced off against hundreds of youths in the street.
The violence was often directed at police officers, including in Brent, northwest London, where three people were arrested for attempted murder after an officer was hit by a car. He was hospitalised, but was in a stable condition.
In Liverpool, hundreds of rioters rampaged through the streets of the northwest city for several hours, setting cars and dustbins alight as they swept from the city centre to Toxteth, the scene of major riots in the 1980s.
Police in Birmingham, in central England, said they had made 100 arrests as youths ran riot and looted shops in the city centre overnight, while police in the western city of Bristol battled to contain a mob of 150 youths.
Some of the worst destruction was in Croydon, a suburb of south London, where an entire block of buildings -- including a 100-year-old family furniture business -- was burned down, sending flames leaping into the night sky.
The owner of the furniture business, Trevor Reeves, told Sky News: "Words fail me. It's just gone, it's five generations. My father is distraught at the moment. It's just mindless thuggery."
Just outside Croydon town centre, hordes of looters roamed the streets unchallenged while the smell of burning cars and buildings hung in the air.
Wealthy neighbourhoods were not spared with rampagers forcing their way into Michelin-starred restaurant The Ledbury in Notting Hill in west London before stealing diners' phones, plates off the tables and attempting to take the till.
In Ealing, a leafy, residential suburb further out to the west, five cars were burned out, restaurant windows were smashed and shops looted.
Acting Metropolitan Police Commissioner Tim Godwin had urged parents to "start contacting their children" to find out where they were.
The violence started in Tottenham on Saturday following the police shooting two days earlier of 29-year-old Mark Duggan, in what police said was an exchange of gunfire. Ballistics test results are due to be published on Tuesday.