LONDON, July 8, 2011 (AFP) - British Prime Minister David Cameron on Friday announced a public inquiry led by a judge into the phone hacking scandal at the News of the World tabloid.
Cameron said a second inquiry would be held to examine the regulation of the press following the scandal, which led to Britain's biggest Sunday newspaper being shut by its owner Rupert Murdoch on Thursday.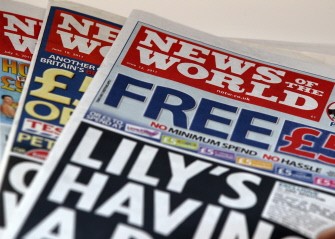 AFP - Copies of Britain's News of the World newspaper are pictured in London, on July 7, 2011
"The Deputy Prime Minister (Nick Clegg) and I have agreed that it's right and proper to establish a full, public inquiry to get to the bottom of what happened," Cameron told a press conference at Downing Street.
"A judge needs to be in charge so there's no question that it is totally independent and things are done properly.
"These are the questions that need answering: why did the first police investigation fail so abysmally? What exactly was going on at the News of the World? And what was going on at other newspapers?
"Of course, the bulk of the work of this inquiry can only happen after the police investigation has finished. That is what the law requires."
Cameron said the second inquiry, into the way in which the press in Britain is regulated in the future, could begin straight away.
"I want to establish a second inquiry to begin at the earliest available opportunity, ideally now, this summer," Cameron said.
"This inquiry should be conducted by a credible panel of figures drawn from a range of different backgrounds who command the full support, respect and above all confidence of the public.
"They should be truly independent, without any motive but to seek the truth and clean up the press.
"This second inquiry should look at the culture, the practices and the ethics of the British press.
"In particular, they should look at how our newspapers are regulated and make recommendations for the future."