Britain's Conservatives and Liberal Democrats meet for new talks Monday amid signs they are edging closer to a deal that would break the country's post-election deadlock.
Negotiators from the opposition parties will make a fresh bid to forge agreement after "very positive and productive discussions" that would end the stalemate and likely install Conservative leader, David Cameron, as prime minister.
All eyes will be on financial markets as they open Monday, amid fears the failure to swiftly provide the country with a strong government could send the pound tumbling.
Thursday's general election delivered a hung parliament -- where no one party has overall control -- for the first time in 36 years.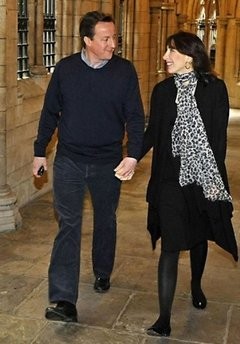 British opposition Conservative party Leader David Cameron and his wife Samantha arrive for a church service in Kensington, west London
The Conservatives won the most seats and pushed the ruling Labour party into second.
But under Britain's first-past-the-post voting system, it was not enough to govern alone and they are now trying to win the extra support needed to rule by working with the Lib Dems, who were in third place.
"The Conservatives and Liberal Democrats are discussing specific proposals and the negotiating teams will meet again in the morning," said a Conservative spokesman late Sunday.
Amid growing signs the two sides were inching towards a deal, Cameron met in parliament with Lib Dem leader, Nick Clegg, on Sunday, in the second set of face-to-face talks in 24 hours.
But Prime Minister Gordon Brown, still in power at the head of Labour but faced with growing calls to step aside, also met with Clegg, in a meeting described by sources as "amicable."
The embattled leader could seek to join up with the Lib Dems if their talks with the Conservatives fail.
Talks between the Lib Dem and Conservative negotiators -- which do not include their leaders -- are the main focus of the push to break the stalemate.
Both parties described discussions on Sunday, which lasted more than five hours, as positive and also apparently tried to send a calming message to jittery financial markets.
"We've had some very positive and productive discussions over many key policy areas," said Conservative negotiator William Hague.
"We are agreed that a central part of any agreement that we make will be economic stability and a reduction of the budget deficit," he added.
Liberal Democrat lawmaker Danny Alexander, who emerged with his party's negotiators, said the talks had been "useful."
"Any agreement made will have deficit reduction and economic stability at its heart," he said.
The general election resulted in the first hung parliament for decades after the Conservatives won the most seats but came up 20 short of an overall majority.
Both the Tories and the Lib Dems have expressed their willingness to come to an agreement.
Clegg has hinted his party may even compromise on their key demand of electoral reform.
Speaking in London Sunday before his negotiators held the last round of talks with the Tories, Clegg said he was "keen that the Lib Dems should play a constructive role at a time of great economic uncertainty."
He also indicated his party could be willing to compromise on one of its demands, electoral reform. Listing key priorities, he stressed simply "extensive fundamental political reform."
This contrasts with his repeated calls on the campaign trail to ditch Britain's voting system for proportional representation, which would favour the Lib Dems.
Despite the negotiations and a Sunday Times/YouGov poll which suggested 62 percent of people want him out of 10 Downing Street now, Brown signalled he means to fight on.
"My resolve has not, and will not, change," Brown wrote to Labour Party members.
There has been talk that Brown, whose party has been in power for 13 years, could be replaced by a figure like Foreign Secretary David Miliband if the Tories and Lib Dems reach agreement.
The centrist Lib Dems are seen as closer to centre-left Labour in most policy areas and there have been warnings that it may not be easy for them to secure a deal with the centre-right Conservatives.
Any alliance involving the Lib Dems has to be first approved by their lawmakers, the ruling executive and potentially their full membership in a complex system known as the "triple lock".
If a deal cannot be done with the Lib Dems, Cameron is prepared to try to rule as leader of a minority Conservative government, relying on ad hoc support from smaller parties.