BEIJING (AFP) – British Foreign Secretary David Miliband was in China Monday, making a quick stop in Shanghai before heading to Beijing for talks likely to focus on Iran's nuclear programme.
Miliband, who arrived late Sunday, was to deliver a speech on the global economy at the Shanghai Institute of International Studies and visit the site of World Expo 2010, which will open on May 1.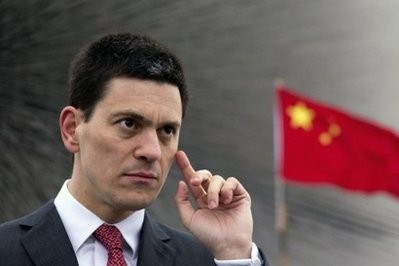 David Miliband gestures as he delivers a speech in front of the nearly completed United Kingdom pavilion at the 2010 World Expo site in Shanghai. AFP photo
He was due to head later Monday to Beijing where he will tour a training facility for China's UN peacekeepers outside the capital, before meetings with the country's top leadership.
Miliband was due to leave China on Wednesday.
He is scheduled to meet with his counterpart Yang Jiechi and Premier Wen Jiabao.
Last week, Chinese foreign ministry spokesman Qin Gang said Miliband and his hosts would "exchange ideas on China-UK relations and other major international and regional issues of common interest".
China, one of five veto-wielding members of the UN Security Council and a close ally of Iran, has so far refused to agree to tougher sanctions against the Islamic republic despite increasing pressure from the West.

Among the other four permanent members, Britain, France and the United States are all pressing for new sanctions.
The fifth, Russia, signalled a shift in its stance early this month, saying it was ready to consider punitive measures against Tehran.
The West suspects Iran is enriching uranium to make nuclear weapons -- a charge denied by Tehran, which says its atomic programme is solely for civilian energy purposes.